New Qualcomm Snapdragon Automotive Cockpit Platforms Come with Artificial Intelligence Capabilities
Press Release Summary: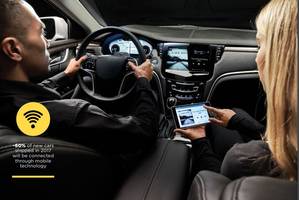 The Qualcomm® Snapdragon™ Automotive Cockpit Platforms are used for entry level, mid-tier and super computing platforms with new tiering system that includes performance, premiere and paramount classes respectively. The modular architecture of the platforms provide consumer with various customizable options. They use precise positioning and cutting-edge technologies for enhanced navigation and optimized audio and video visual experiences. The cockpit platforms come with secure processing unit that protect personal and vehicle data.
---
Original Press Release:
Qualcomm Announces Multi-Tiered 3rd Generation Snapdragon Automotive Cockpit Platforms
Qualcomm Transforms In-Vehicle Experiences Featuring High Performance Computing, Immersive Graphics and Enhanced Multimedia With Its First-Announced Scalable Artificial Intelligence-Based Platform For All Vehicle Tiers
LAS VEGAS, Jan. 7, 2019 - Qualcomm Technologies, Inc., a wholly owned subsidiary of Qualcomm Incorporated (NASDAQ: QCOM) today introduced its 3rd Generation Qualcomm® Snapdragon™ Automotive Cockpit Platforms, with a new tiering system comprised of Performance, Premiere and Paramount classes for the entry level, mid-tier and super computing platforms, respectively. The automotive industry is evolving at an unprecedented pace of innovation driven by the adoption of new technology. To keep up with this pace, and to help our automotive customers meet the evolving needs of consumers for all vehicle classes, Qualcomm Technologies offers the new, fully scalable 3rd Generation Snapdragon Automotive Cockpit Platforms, which are designed with a modular architecture to allow automakers to deliver a variety of customizable options for their consumers. As the automotive industry's first-announced scalable artificial intelligence (AI)-based platforms, the 3rd Generation Snapdragon Automotive Cockpit Platforms are designed to transform in-vehicle experiences, supporting higher levels of computing and intelligence needed for advanced capabilities featured in next generation vehicles, including highly intuitive AI experiences for in-car virtual assistance, natural interactions between the vehicle and driver, and contextual safety use cases. Utilizing precise positioning for enhanced navigation solutions, and cutting-edge technologies for immersive audio and rich visual experiences, the 3rd Generation Snapdragon Automotive Cockpit Platform is designed to unleash transformative experiences for the driver and passengers.
Building on the technology introduced with the industry-leading Qualcomm® Snapdragon™ 820a Platform, the 3rd Generation Snapdragon Automotive Platforms are engineered with immersive graphics, multimedia, computer vision and artificial intelligence capabilities. The new platforms feature integrated heterogenous computing capabilities, leveraging the multi-core Qualcomm® AI Engine, Qualcomm® Spectra™ Image Signal Processor (ISP), fourth-generation Qualcomm® Kryo™ Central Processing Unit (CPU), Qualcomm® Hexagon™ Processor and sixth-generation Qualcomm® Adreno™ Visual Subsystem. The Qualcomm AI Engine optimizes the AI capabilities of all primary Snapdragon cores including CPU, GPU and the Hexagon Processor. The all new Hexagon Processor includes Hexagon Vector eXtensions (HVX) and a dedicated Hexagon Tensor Accelerator (HTA) to provide exceptional AI acceleration for a more power-efficient implementation of edge-based machine learning use-cases such as Natural Language Processing and Object classification. The 3rd Generation Snapdragon Automotive Cockpit Platforms also feature the Qualcomm® Secure Processing Unit (SPU), engineered to help protect personal and vehicle data, and Qualcomm® Vision Enhanced Precise Positioning based camera sensors and computer vision capabilities to support differentiated use-cases on lane-level crowdsourcing of drive data for building map layers.
These platforms include virtualization support compatibility with leading hypervisor solutions to address the domain convergence of infotainment and instrumentation systems, helping automakers meet the increasing complexity demanded by the consolidation of the digital cluster and infotainment domains. These new platforms also leverage the same software architecture and framework across all tiers allowing automakers to offer a harmonized user experience independent of the vehicle tier while leveraging the same software framework. The new platforms also offer comprehensive software support for Android, LINUX high-level and other real-time operating systems, providing flexible and scalable software solutions to support mixed criticality solutions, multiple engine control unit (ECU) consolidation, one-to-many high-resolution and refresh rate displays, basic audio to multi-zone, luxury Hi-Fi with multi-mic echo cancellation and noise reduction for voice calls and user interface interaction, and state-of-the-art 2D and 3D graphic visualization for vehicle occupants to utilize connected services information, and enjoy protected movie and entertainment content.
The 3rd Generation Snapdragon Automotive Cockpit Platforms feature an advanced suite of wireless technologies to support multi-mode cellular connectivity, Wi-Fi 6, as well as enhanced Bluetooth technologies.
"With our 3rd Generation Snapdragon Automotive Cockpit Platforms, we are reiterating our commitment to bring highly differentiated and customizable in-car experiences to our customers," said Nakul Duggal, senior vice president of product management, Qualcomm Technologies, Inc. "Through a unique combination of best-in-class technology IP in our new scalable product roadmap of Performance, Premiere and Paramount platforms, Qualcomm Technologies offers an unprecedented level of innovation across all vehicle tiers. Our new Snapdragon Automotive Platforms are designed to deliver a concurrent implementation of next generation high resolution digital instrument clusters with industry leading infotainment technologies supported through artificial intelligence capabilities, leading edge graphics for high-resolution multiple display configurations, vision enhanced precise positioning for supporting safer and smarter navigation, much more."
Experience Snapdragon Automotive Cockpit Platforms Power:
Highly Intuitive AI Experiences: Qualcomm AI Engine for driver and passenger personalization, in-car virtual assistance, and natural voice control, language understanding, and adaptive human machine interfaces
Contextual Safety for intelligent driving assistance systems, including in-cabin monitoring and ultra-HD surround view monitoring.
Smarter Navigation: lane-level navigation with visual aid positioning and multi-frequency global navigation satellite system (GNSS) to support augmented reality-based navigation systems
Rich Visual Experiences: support for multiple displays throughout the vehicle, including ultra-wide panoramic displays, reconfigurable 3-D digital instrument clusters, augmented reality heads-up display (HUD), and ultra-HD media streaming
Immersive Audio: provides premium audio experiences, including personalized multi-audio zones customized for each user, crystal clear in-car communication and active noise and echo cancellation with engine noise suppression capabilities
Samples of the 3rd generation Snapdragon Automotive Cockpit Platforms are available now. The automotive ecosystem can evaluate, demonstrate and develop third-generation automotive solutions leveraging the Qualcomm® Snapdragon™ Automotive Development Platform (ADP). Based on the 3rd Generation Snapdragon Automotive Cockpit Platforms, the highly integrated Snapdragon ADP is designed to provide a comprehensive hardware and software environment for rapid development of high performing and power efficient automotive cockpit platforms. The ADP is designed in a single DIN form-factor and mechanical housing for easy prototyping in car, and features support for Android and LINUX high-level and real-time operating systems and hypervisor virtualization support, as well as support for multiple high-resolution displays and cameras, including driver monitoring and surround view cameras.
Qualcomm Technologies' integrated automotive platforms are driving leadership and growth across telematics, infotainment and in-car connectivity, with an order pipeline of more than $5.5 billion, which is up from $3 billion in January 2018. Qualcomm Technologies has secured infotainment and digital cockpit wins with 18 of the 25 global automaker brands. Qualcomm Technologies continues to work with numerous automakers and Tier 1 suppliers to bring next generation technologies to vehicles.
"As the industry-leading manufacturer of high performance mobile electronics, Alpine Electronics strives to answer the demands of consumers and automakers for high-quality, innovative automotive technology," said Osamu Kazama at Alpine. "This is why we are extremely excited about Qualcomm Technologies' next generation Snapdragon Automotive Platforms, which will help us achieve our vision of designing a new kind of in-vehicle space based on the convergence of high performance audio, video, navigation and telematics."
"The automotive industry is the new frontier meant to benefit from the latest innovations in connected technologies, artificial intelligence, and infotainment, bringing drivers and passengers everywhere a next-generation user experience," said Dr. Andree Zahir, senior vice president business unit infotainment & connectivity at Bosch. "We at Bosch are honored to pursue our work with Qualcomm Technologies in pushing the boundaries of in-vehicle experiences, combining our long-standing electronics expertise with the new Paramount, Premiere and Performance Snapdragon Automotive Cockpit platforms."
"Continental believes Qualcomm Technologies' 3rd generation Snapdragon Automotive Cockpit Platforms will be a perfect fit to fulfil the performance requirements needed for our high-performance cockpit computer platform, the Integrated Interior Platform," said Uwe Schumacher, head of platform development, Division Interior, Continental. "Continental looks forward to continuing our joint efforts with Qualcomm Technologies in bringing advanced capabilities to next generation vehicles and looks forward to the launch of the Snapdragon Automotive Cockpit Platforms as they will enable us to feature highly advanced functionalities, including high-end graphics across multiple in-vehicle displays."
"Denso's vision for the future is to establish optimal semiconductor solutions for in-vehicle electronics systems for next generation cockpit system," said Motoki Kanamori, General Manager at Denso. "Our strong relationship with Qualcomm Technologies has allowed us to successfully serve the automotive market for years and we look forward to continuing this relationship through this new series of in-vehicle innovations."
"Desay SV and Qualcomm Technologies have maintained a close cooperation in automotive field. Qualcomm Technologies' third-generation Snapdragon Automotive Platforms empowers Desay SV's next generation intelligent cabin products and its excellent performance is highly recognized by automotive industry players," said Mr. Huang Li, director of Desay SV Intelligent Transportation Technological Research Institute., Ltd, a wholly-owned subsidiary of Desay SV. "Desay SV is looking forward to Qualcomm Technologies next generation of automotive solutions, and we believe that the further cooperation will bring even higher performance, more valuable and competitive products to our customers."
"We are pleased to see Qualcomm Technologies' launch their third-generation Snapdragon Automotive Cockpit Platforms. FGE strongly believes the new Snapdragon Automotive Platforms will be very popular in China and very competitive automotive solutions," said HC Wang, CTO of FGE. "FGE attaches great importance to the cooperation with Qualcomm Technologies and looks forward to seeing the third-generation Snapdragon Automotive Cockpit Platforms become the most important platform of FGE in the next generation of intelligent and connected vehicle products."
"We are excited about the realm of innovations introduced by Qualcomm Technologies' new Snapdragon Automotive Cockpit Platforms, which brings about a new era for the automotive industry," said Matt Munn, Garmin automotive OEM managing director. "As a leader in automotive infotainment solutions, Garmin looks forward to working with Qualcomm Technologies and the new Paramount and Premier Snapdragon Automotive Cockpit Platforms to deliver the next generation of system integration and unrivaled in-vehicle user experiences."
"Hangsheng has always attached great importance to the new technology of intelligent telematics and automotive cockpits," said Seamus Zhu, vice president of technology, Hangsheng. "Hangsheng believes Qualcomm Technologies' next generation Snapdragon Automotive Cockpit Platforms will provide great technical support and serve as a premium choice for intelligent automotive cockpit solutions and look forward to working together on the commercialization of our combined efforts for advanced automotive solutions."
"The introduction of Qualcomm Technologies' 3rd generation Snapdragon Automotive Cockpit Platforms is a game-changer for the automotive industry given the scalability, common software footprint, leading-edge IP, process node and performance from entry to super-premium tiers," said JR Lim, SVP & Head of Smart Engineering Center of Vehicle component Solutions Company of LG Electronics. "LG Electronics has a long-standing relationship with Qualcomm Technologies for over 15 years. LG Electronics has delivered multiple generations of telematics devices using Qualcomm Technologies products, and has been the first Tier1 supplier to commercialize on the S820A chipset, Qualcomm Technologies' second generation Snapdragon Automotive platform. Together we are looking forward to building on our strong relationship and ushering in the next generation in-vehicle technologies using the 3rd generation Snapdragon Automotive Cockpit Platform family."
"Qualcomm Technologies and Mitsubishi Electric have a long working history and complementary technologies which, together, enhance the consumer experience and accelerate the delivery of automotive innovation," said Shoji Tanaka, Ph.D, General Manager of Car Multimedia System Engineering Dept. of Sanda Works, Mitsubishi Electric Corporation. "Qualcomm Technologies has been a key driver of advanced automotive technology, and we are confident that the Snapdragon Automotive Cockpit Platforms will further contribute to the next generation of transportation and in-vehicle experiences."
"In recent years, Panasonic and Qualcomm Technologies have each made significant advancements in the development of automotive technologies, bringing about a paradigm shift in in-vehicle experiences powered by the latest infotainment and AI capabilities," said Masashige Mizuyama, Chief Innovation Officer, Automotive Business, Panasonic. "With Qualcomm Technologies' third-generation Snapdragon Automotive Cockpit Platforms, we expect our respective technologies to progress and further improve the quality and value of immersive in-vehicle experiences." "Visteon is pleased to be one of the first cockpit electronics suppliers to demonstrate next-generation Android infotainment systems and cockpit domain controllers using the latest Qualcomm Snapdragon Automotive Cockpit Platforms," said Sachin Lawande, President and CEO, Visteon Corporation. "These high-performance platforms allow multiple apps for integrated navigation, multi-media, cameras and other services to run simultaneously on the in-vehicle infotainment system."
Demonstrations based on the new platforms, as well as other automotive industry leaders, are scheduled at the Qualcomm Technologies' Automotive booth, located in the North Hall, booth #5609, during the Consumer Electronic Show® (CES) 2019. 
About Qualcomm
Qualcomm invents breakthrough technologies that transform how the world computes, connects and communicates. When we connected the phone to the Internet, the mobile revolution was born. Today, our inventions are the foundation for life-changing products, experiences, and industries. As we lead the world to 5G, we envision this next big change in cellular technology spurring a new era of intelligent, connected devices and enabling new opportunities in connected cars, remote delivery of health care services, and the IoT — including smart cities, smart homes, and wearables. Qualcomm Incorporated includes our licensing business, QTL, and the vast majority of our patent portfolio. Qualcomm Technologies, Inc., a subsidiary of Qualcomm Incorporated, operates, along with its subsidiaries, all of our engineering, research and development functions, and all of our products and services businesses, including, the QCT semiconductor business. For more information, visit Qualcomm's website, OnQ blog, Twitter and Facebook pages.
Qualcomm Contacts:
Pete Lancia, Corporate Communications 
Phone: 1-858-845-5959 
Email: [email protected]
Mauricio Lopez-Hodoyan, Investor Relations 
Phone: 1-858-658-4813 
Email: [email protected]