New Push-In Terminal Blocks Provide Reliable and Flexible Connection
Press Release Summary: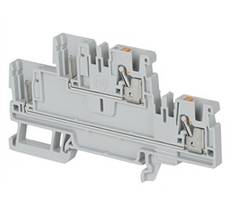 Rockwell's 1492-P Series Push-In Terminal Blocks come with front facing terminals for easy access, a clamp to ensure a safe connection point and built-in port test port for monitoring meter voltage and current. Units provide color-coded plastic actuators that offer the user with visual indicators for proper wiring of the electric panel. The blocks are offered with twin-ferrule options that enable two wires per connection.
---
Original Press Release:
New Push-In Terminal Blocks Improve Connections and Simplify Panel Design
New connected technology reduces maintenance and increases reliability
MILWAUKEE, May 29, 2018 — Rockwell Automation introduces a new family of terminal blocks for improving wiring efficiency and the quality of connections. The Allen-Bradley Bulletin 1492-P series push-in terminal blocks offer reliable connections, increased time savings and less operator maintenance for an improved wiring environment.

In the past, spring-clamp, screw terminal blocks with unsecured wires left potential for loose connections. The new, vibration-proof terminal blocks feature a clamp to secure loose wiring and achieve a safe connection point with added space-saving benefits. The front facing terminals provide an easy sight line and access for wiring when compared to traditional screw-clamp terminal blocks.

"Older connection technologies required users to manually tighten screws to a specific torque and continuously check that the torque is in place after transit," said Darren Miller, business manager, Rockwell Automation. "The new push-in terminal blocks provide quick and reliable connections without requiring screwdrivers or other tools for wire installation. Users can expect a total time savings greater than 50 percent compared to previous models."

The plastic actuator feature mitigates potential shock hazards with a finger-safe design, which eliminates access to live metal components. The new control power distribution and signal/sensor application-specific terminal blocks offer color-coded plastic actuators, which provide the customer visual indicators for proper wiring inside the electrical panel. Every 1492-P series push-in terminal block offers a built-in test port, which allows users to easily monitor meter voltage and current. With many factories operating at different power levels throughout the plant, the test point verifies that each terminal is operating with the appropriate voltage, mitigating the need to manually insert probes. 

The push-in terminal blocks can also be used with wiring ferrules to further improve efficiency and quality of connection. In addition, twin-ferrule options are available for using two wires per connection. The Bulletin 1492-P series has been tested and approved for use with Panduit ferrules, a Strategic Alliance Partner within the Rockwell Automation PartnerNetwork program. A ferrule selection guide is available to identify the recommended ferrule for the selected wire size and 1492-P push in terminal block.

About the Rockwell Automation PartnerNetwork Program
The Rockwell Automation PartnerNetwork program offers global manufacturers access to a collaborative network of companies mutually focused on developing, implementing and supporting best-in-breed solutions to achieve plantwide optimization, improve machine performance, and meet sustainability objectives.

About Rockwell Automation
Rockwell Automation Inc. (NYSE: ROK), the world's largest company dedicated to industrial automation and information, makes its customers more productive and the world more sustainable. Headquartered in Milwaukee, Wis., Rockwell Automation employs approximately 22,000 people serving customers in more than 80 countries.

Media Contacts
Todd Bissell
Rockwell Automation
978.446.3284
tmbissel@ra.rockwell.com

Heidi Wight
Padilla
612.455.1795
Heidi.Wight@padillaco.com
Contact This Company Download Spec Sheet
More from Controls & Controllers