New Purify O3 CPAP Sanitizer Features User-friendly Touch-to-Activate Controls
Press Release Summary: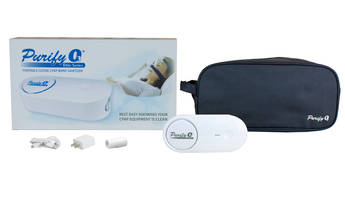 Kills 99.99% of germs and bacteria in a single cleaning cycle
Illuminated interface and auditory alerts are simple
Ideal for use when traveling or for those who are short on space
---
Original Press Release:
Responsive Respiratory Expands its Purify O3 CPAP Sanitizer Offering
St. Louis, Missouri – March 1, 2021 – RRI expands its sleep market offering with the introduction of the next generation of the Purify O3 – the Elite Series.
The Purify O3 Elite features user‐friendly touch‐to‐activate controls. Lightweight and easy to use, the sleek design with visual feedback for users includes an illuminated disinfection progress ring and lighted battery life indicator. "Purify O3 Elite is the next generation of CPAP/BiPAP disinfectors," explains Thomas Bannon, Responsive Respiratory President. "The illuminated interface and auditory alerts are elegantly simple, making Purify O3 Elite the choice for CPAP or reusable medical product disinfection."
Similar to its predecessor, Purify O3 Elite kills 99.99% of germs and bacteria in a single cleaning cycle, is third party tested for efficacy, and is FDA registered. The device's compact design makes Purify O3 Elite ideal for use when traveling or for those who are short on space, as it sanitizes and stores in the included reusable zippered case. "The Purify O3 Elite kit includes everything the patient needs to sanitize their PAP equipment – no adapters, filters, pre‐wash solutions or replacement bags are required," notes Bannon. "Providers appreciate the simplicity of the disinfector; with everything a patient needs to sanitize included in the kit at an affordable price."
Additional information regarding the new Purify O3 Elite can be found on a new patient/user friendly website www.purifyo3.com. Purify O3 Elite joins Responsive Respiratory's offering of respiratory care products for the EMS, Hospital, and Home Care markets.
About Responsive Respiratory: ‐
Responsive Respiratory was founded in 2002 and is dedicated to providing high quality respiratory products for the home health care, medical, EMS and industrial markets. RRI's comprehensive line of high pressure oxygen products include: regulators, cylinder carts & racks, oxygen conservers, and carry cases. For a complete listing of Responsive Respiratory's products, visit www.respondo2.com.
Contact:
Sara Lippold, Marketing Manager
Responsive Respiratory
6244 Lemay Ferry Rd., St. Louis, MO 63129
866‐333‐4030
srl@respondo2.com
www.respondo2.com
More from Computer Hardware & Peripherals