New PurgEye Site Weld Purge Monitor Offers Measurement from 10 to 1000 ppm
Press Release Summary: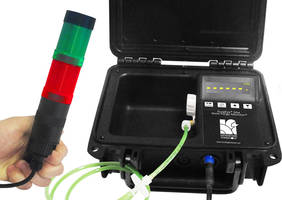 PurgEye® Site Non-Destructible Weld Purge Monitor comes with automatic welding machine interface, traffic light visual indication system and temperature guage. Unit is operated on 10 hrs battery or electricity from 90 – 250 V. PurgEye site monitor indicates oxygen levels in ppm or percentage and displays through OLED. Unit features long life sensor and Purgenet™. The unit enables welder to produce non-oxidised and zero-colour welds.
---
Original Press Release:
The Virtually Non-Destructible PurgEye® Site Weld Purge Monitor® for On-Site Conditions
Welders often face difficulties when working under the conditions experienced on-site. When welding critical joints in such situations, the challenges might come from working at height, exposure to extremes of heat and cold, harmful sand and dust and even hazardous fumes. Therefore using an expensive Weld Purge Monitor® in such conditions may not always be ideal.
With over 40 years of scientific research behind them, Weld Purging Experts Huntingdon Fusion Techniques HFT® have designed a virtually non-destructible Weld Purge Monitor® to work accurately within extreme environments. The PurgEye® Site is a guarded oxygen monitor in a secure, safe, waterproof and dustproof, very tough carry case.
Ron Sewell, Chairman for HFT® said: "This tough, robust monitor has been specifically designed for on-site conditions. With the housing case open the monitor is IP65 rated and IP68 rated with the lid closed. The PurgEye® Site measures oxygen levels very accurately from 1,000 ppm, right down to 10 ppm.
The PurgEye® Site has a fast response, long life sensor and it is equipped with PurgeNet™, allowing the monitor to connect to a variety of accessories. One of the accessories, an automatic welding machine interface, allows controls to be based upon the oxygen level, to prevent welding if that level is too high. Other accessories include a traffic light visual indication system and a temperature gauge.
The large, bright, OLED display allows the data to be easily read and is mainly symbol based, rather than text. The display does not need a backlight and can be viewed from greater angles than LED screens.
Oxygen levels can be indicated by the PurgEye® Site gas analyser in parts per million (ppm) or percentage, depending on user preference. Flow detection ensures accurate reading of gas samples, along with a blocked filter icon and power on / off with a standby button for sensor warm up.
The small, low volume, almost indestructible case, can be carried anywhere and the PurgEye® Site used either with its internal battery, which lasts up to 10 hours or connected to mains electricity from 90 – 250 v, single phase A.C.
By using the PurgEye® Site, welders can ensure non-oxidised, zero colour welds are achieved regardless of conditions. Using a Weld Purge Monitor® eliminates guesswork, prevents the need to clean or grind welds and adjacent surfaces and saves further considerable costs by preventing loss of argon.
Huntingdon Fusion Techniques HFT® have a Worldwide Exclusive Distributor network, which can be found at www.huntingdonfusion.com.
For further information, please contact:
Michaela Reay, Marketing Associate
Huntingdon Fusion Techniques HFT®
Press: michaelareay@huntingdonfusion.com
Sales: support@huntingdonfusion.com
www.huntingdonfusion.com
Huntingdon Fusion Techniques HFT® are Weld Purging Innovators, Designers and Manufacturers with offices located globally.
Huntingdon Fusion Techniques HFT® invented the 'Weld Purge Monitor®' in 1975 and own all international intellectual property rights and registered trademarks.
Weld purging is the act of removing, from the vicinity of the joint, oxygen, water vapour and any other gases or vapours that might be harmful to a welding joint. Such gases may combine with the metal to form undesirable compounds that may reduce corrosion resistance or may be instrumental in creating cracks or other structural defects in metals.
More from Electronic Components & Devices