New PurgEye Nano Weld Purge Monitor Comes with Leak-Tight Connectors
Press Release Summary: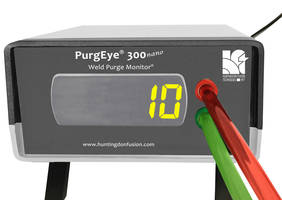 PurgEye® Nano Weld Purge Monitor® is designed for weld purging applications where data logging, alarms and machine controls are not required. Unit is equipped with a long life sensor featuring warm up time under 60 seconds. PurgEye Nano measures oxygen levels accurately up to 10 ppm. Unit can be used for checking purge gas quality and to find air leaks in purging hose connections.
---
Original Press Release:
Low Cost, Entry Level 10 ppm Weld Purge Monitor
Metals such as stainless steel, titanium, zirconium and nickel alloys are often required to be welded in an environment containing 100 parts per million (ppm) of oxygen or even less in some industries, guaranteeing the greatest weld joint strengths and the highest resistance to corrosion.
To ensure oxygen levels are low enough before, during and after welding of the most critical weld joints, leaders in Weld Purging Technology Huntingdon Fusion Techniques HFT® have designed and developed the low cost entry level PurgEye® Nano Weld Purge Monitor®.
Ron Sewell, Chairman for HFT® said: "These metals are commonly welded with the GTAW (TIG) process that needs the arc and its surrounding zone to be shielded with a high specification inert gas that has the minimum amount of oxygen. If the welds and their adjacent metal become oxidised, that may lead to a reduction of resistance to corrosion and potential joint integrity. These risks have to be prevented."
"For this purpose, HFT® invented the Weld Purge Monitors® in the 1970's to measure the oxygen levels for welding. At that time, 100 parts per million of oxygen in argon was deemed to be a good level for most stainless steel and other metals to be welded, however research shows that it has become necessary to try to attain a purity approaching 10 ppm of oxygen in argon when shielding the welds zones"
The PurgEye® Nano is one of HFT®'s most affordable monitors measuring accurately to 10 ppm, ensuring that oxygen levels can be measured where only lower budgets are available.
The PurgEye® Nano has been developed for weld purging where data logging, alarms and machine control are not necessarily required. This top class instrument is small, lightweight and inexpensive. Developed with a unique long life sensor that has a warm up time under 60 seconds.
With leak-tight connectors for weld purge hoses, the PurgEye® Nano can be used with optional accessory hand pump and gas sampling probe. It can be used to check purge gas quality from the main source and at the exhaust end of a purging system, as well as to find air leaks in purging hose connections anywhere in a system.
HFT® has a Family Range of PurgEye® Weld Purge Monitors® for every application. The range includes hand held, battery operated monitors and mains powered monitors, which can read oxygen levels from atmospheric concentrate, right down to 1 ppm.
Ron continues: "All of Huntingdon Fusion Techniques HFT®'s Weld Purge Monitors® and Inflatable Tube, Pipe and Pipeline Weld Purging Systems are manufactured in the UK. We do not sacrifice on quality. We guarantee to help welders achieve zero colour welds, time and time again."
Huntingdon Fusion Techniques HFT® have a worldwide Exclusive Distributor network which can be found at www.huntingdonfusion.com.
For further information, please contact:
Michaela Reay, Marketing Associate
Huntingdon Fusion Techniques HFT®
Press: michaelareay@huntingdonfusion.com
Sales: support@huntingdonfusion.com
www.huntingdonfusion.com
Huntingdon Fusion Techniques HFT® are Weld Purging Innovators, Designers and Manufacturers with offices located globally.
Huntingdon Fusion Techniques HFT® invented the 'Weld Purge Monitor®' in 1975 and own all international intellectual property rights and registered trademarks. 
Weld purging is the act of removing, from the vicinity of the joint, oxygen, water vapour and any other gases or vapours that might be harmful to a welding joint. Such gases may combine with the metal to form undesirable compounds that may reduce corrosion resistance or may be instrumental in creating cracks or other structural defects in metals.
More from Software