New Pulverizers from Virtus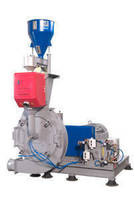 Arlington currently represents the Virtus line of New equipment.



You may not know that also includes Pulverizers. Virtus offers a 500mm and an 800mm model that can be configured for your specific product. In addition to the base unit the machine can be quoted with an All Metal Separator, Suction Unit and Spare parts package. The Virtus line of equipment is a low-cost alternative compared to other brands without sacrificing quality. PVC and other materials are perfect for the Virtus Pulverizer. Whether you are a rotational molder or a pipe manufacturer, the 500mm or 800mm units should be perfect for your facility.

More from Material Processing