New PSS-A50 Keyboard Features 40 Instrument Voices Plus Two Drum Kits
Press Release Summary: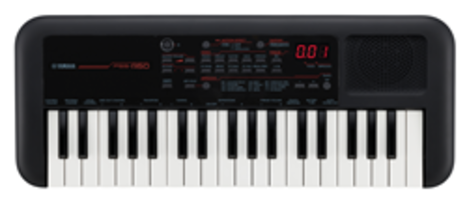 Functions as a MIDI controller for software instruments hosted on a computer when connected to a computer with the included USB cable
20 inches wide and weighs two and a half pounds
Runs on four AA batteries or via USB bus power
---
Original Press Release:
Yamaha PSS-A50 is an Ultra-Compact Producer's Powerhouse
Forty instrument Voices plus two drum kits, all with pro-level sound quality, in a small package.
Buena Park, Calif. (PRWeb) November 04, 2019 -- Yamaha debuts the PSS-A50 portable keyboard, a physically petite but musically mighty inspiration machine for modern production on the go. Whatever the style of music, its high-quality Voices and sophisticated arpeggiator turn ideas into tunes in record time — and it all comes at an unbelievably affordable price.
The PSS-A50 features 40 instrument Voices plus two drum kits, all with sound quality more like that of a professional Yamaha synth than anything else, with Pianos, synths, basses, strings, and more all sounding like today's hits.
The experience of playing these sounds is just as high-end, thanks to a velocity-sensitive, 37-note keyboard inherited from the Yamaha reface family of specialty synths. The reface line has won critical acclaim for feel and expressive nuance previously not thought possible from mini keys, and those keys are here.
Activate the arpeggiator, and the true power of the PSS-A50 is unleashed. It goes far beyond traditional arpeggio fare, offering a selection of 138 musical phrases suited to the various instrument Voices — including the drum kits for beat creation — as well as a myriad of up-to-the-minute musical styles. What's more, the Phrase Recorder performs looper-like recording, letting the player create custom phrases then play them back continuously while building up the rest of the groove.
The Motion Effect button adds important musical expression such as filter sweeps, pitch dives, and modulation, and its effects are captured by the Phrase Recorder right along with the notes. Likewise for sustain and portamento, which are triggered by another button.
When connected to a computer with the included USB cable, the PSS-A50 can function as a MIDI controller for software instruments hosted on a computer, or even record its output as multi-track MIDI data into a DAW such as Cubase.
At under 20 inches wide and weighing just over two and a half pounds, the PSS-A50 easily slips into a backpack, and it's built tough. It can run on four AA batteries or via USB bus power, so if it's plugged into a computer (or a phone charger or a "power brick"), no batteries are required. For jamming in private, a stereo headphone output mutes the convenient built-in speaker.
"This much music production capability in a keyboard this tiny and affordable is unprecedented," said Ben Harrison, marketing manager, Digital Piano and Portable Keyboard, Yamaha Corporation of America. "It's ideal for the aspiring producer, but we think even pros would get addicted to it as an idea machine."
Pricing and Availability
The Yamaha PSS-A50 will ship to retailers on November 1 at an MSRP of $169.00. For more information, visit the Yamaha Booth at the 2020 NAMM Show in the Anaheim Marriott Hotel, Marquis Ballroom, January 16-19, 2020, or https://yamaha.io/2CcpEuU
About Yamaha
Yamaha Corporation of America (YCA) is one of the largest subsidiaries of Yamaha Corporation, Japan and offers a full line of award-winning musical instruments, sound reinforcement, commercial installation and home entertainment products to the U.S. market. Products include: Yamaha acoustic, digital and hybrid pianos, portable keyboards, guitars, acoustic and electronic drums, band and orchestral instruments, marching percussion products, synthesizers, professional digital and analog audio equipment, Steinberg recording products and NEXO commercial audio products, as well as AV receivers, amplifiers, MusicCast wireless multiroom audio systems, Blu-ray/CD players, earphones, headphones, home-theater-in-a-box systems, sound bars and its exclusive line of Digital Sound Projectors. YCA markets innovative, finely crafted technology and entertainment products and musical instruments targeted to the hobbyist, education, worship, music, professional audio installation and consumer markets.
Contact Information:
Peter Giles
Giles Communications
http://www.giles.com
(914) 644-3500 x 700