NEW Protector Evidence Drying Chamber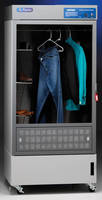 The NEW Protector Evidence Drying Cabinet is the first item to be introduced in the Labconco Forensic Enclosure line. The Cabinet provides a secure ventilated area to dry evidence such as clothing, bedding and marijuana. The cabinet's HEPA and carbon filtered exhaust protects personnel from exposure to biohazards while eliminating odors. The key-activated ultraviolet light provides secondary disinfection of the interior between cases to prevent cross contamination, ensuring integrity of samples for DNA testing. The lockable cabinet maintains the chain of custody.

For more information on the Evidence Drying Cabinet, call Labconco Corporation at 800-732-0031, or download the PDF brochure at www.labconco.com.

More from Communication Systems & Equipment