New Product Is Pocket-Sized Triple Threat: IRT, NCV Detector, & Flashlight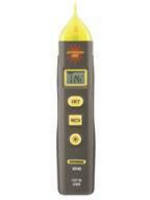 Multiple Functions Mean Maximum Value



New York, NY — The new, pocket-sized 4:1 IR Thermometer with NCV Detector Flashlight (VR40) [Patent Pending from General Tools & Instruments (General®) embodies innovation in several ways that benefit technicians, contractors and electricians. As an instrument with multiple functions—Infrared Thermometer (IRT), Non-Contact Voltage (NCV) detector and flashlight—the VR40 offers more versatility and utility than other products on the market, increases efficiency on the job and gives users more bang for their buck. Plus, its size makes it the perfect field tool, whether at the top of a ladder or in a dark crawl space.



The VR40's integral IRT provides a safe and reliable way to measure surface temperatures, so it's ideal for HVACR professionals who need to determine the temperature of heating or cooling coils, or detect overload currents in motors, electrical conduits and junction boxes. Temperature readings are displayed in Fahrenheit or Celsius (-4° to 626°F/-20° to 330°C) on a four-digit LCD and are automatically held for 15 seconds.



Unlike other NCV detectors with only one sensitivity level — meaning the ability to detect just one range of voltages—General's VR40 offers four sensitivity levels chosen to optimize voltage detection over four practical ranges (12 to 25VAC, 70 to 125VAC, 150 to 240VAC, 250 to 600VAC). The ability to detect the presence of 12VAC without direct contact comes in handy when troubleshooting branch circuits, as well as process plant or industrial automation systems and equipment, and hardwired thermostats. The VR40's lower sensitivity levels are valuable for taking the guesswork out of identifying the "hot" wire in a bundle. The instrument's audible and visual alarms make it immediately evident when voltage is detected. And because the tip of the VR40 can fit in the slots of 110VAC receptacles, it also indicates whether the receptacle is wired correctly or in reverse.



The instrument's integral LED flashlight means there's no struggle to "see in the dark." Its exclusive, patent-pending ergonomic design places the IRT and NCV sensors together with the flashlight at the same end of the device for ultra-convenient operation.



See General's new 4:1 IR Thermometer with NCV Detector & Flashlight (VR40) at Booth 8152 at AHR 2014, January 21-23, 2014 at the Javits Center in New York City.



The instrument will be on display and available for order.



About General Tools & Instruments

Headquartered in New York City since 1922, General Tools & Instruments remains the market leader in precision specialty hand tools. Recent product advancements and corporate acquisitions have expanded General's line to include over 1,500 precision tools and hand-held instruments. This vast array of products is widely used by contractors, professionals, technicians, DIYers and hobbyists in a broad range of industries. To learn more about General Tools & Instruments and its products, visit www.generaltools.com or call Customer Support at 1-800-697-8665.



Contacts:

For additional product information and photographs, contact Sue Minichiello, Senior PR Associate, SpaceAge Media Consultants, 617-783-2700, sue@spaceage-media.com or Peter Harper, VP Strategic Marketing, General Tools & Instruments, 212-431-6100 x267, p.harper@generaltools.com.



Attn. Publishers: Please send all sales leads to Peter Harper, VP Strategic Marketing, General Tools & Instruments; 80 White Street; New York, NY 10013-3567; USA; Phone: 212-431-6100 x267; Fax: 212-431-6499; Email: p.harper@generaltools.com.







More from Electrical Equipment & Systems