New PriorityPour Tight Head Containers With High Speed, Four Cavity Shuttle Technology
Press Release Summary: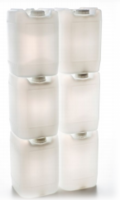 Eco and lightweight containers are available in 5-gal and 20L capacity
Delivers multilayer, sustainable product with the same integrity and durability
Containers are UN/DOT-approved for Y and Z regulations without the use of an outer pack carton
---
Original Press Release:
Priority Plastics Expands Capacity for UN-Rated Tight Head Containers
Priority Plastics has invested over five million dollars in equipment, molds, training and technology for a new high speed tight head machine in its Portland, Indiana facility. The new machine, internally called "The CYCLONE" supports the rapid growth that Priority has experienced in the UN-rated tight head pail market. In addition to high speed quality, the new technology includes automated processing, multi-layer manufacturing capabilities and high tech mold design allowing strength improvement in bottle manufacturing. The mold design supports light weighting and other eco-friendly product improvements as part of Priority Plastics commitment to develop sustainable plastic containers.
PriorityPour tight head containers are built for the responsibility they carry and now offer more capacity in less time. The high speed, four cavity shuttle technology gives us the opportunity to offset freight and be even more cost competitive.
Our offering includes:
PriorityPour Standard, Eco and Light Weight
White & natural/stock
5-gal and 20L
Rectangle
Integrated handle
61 mm 6 TPI, 70 mm 6 TPI (TE) & 8 TPI
No vent, 22 mm open and closed
Most containers are UN/DOT-approved for Y and Z regulations without the use of an outer pack carton.
The PriorityPour Eco and Light Weight containers deliver a multilayer, sustainable product with the same integrity and durability as our standard containers. Multi-layer technology uses closed-loop or post-consumer regrind while the light weight option is 1,000 grams using up to 20% less virgin plastic resin. These sustainable options help Priority Plastics achieve our continuous-improvement goal to reduce our overall environmental impact.
In addition, Priority Plastics has fully equipped, and audited in-house testing facilities, to ensure the quality of our containers. Priority Plastics certifies that our UN-marked tight head containers meet or exceed all of the testing and manufacturing regulations and standards set by the US Department of Transportation, and specifically by the Pipeline and Hazardous Materials Safety Administration. Secure and safe, they are the preferred packaging solution for a wide variety of applications including food and flavor concentrates, janitorial sanitation and specialty chemicals including agricultural and Lawn and Garden.
Priority Plastics, Inc. provides complete plastic container packaging solutions for startup companies to multinational firms. With four manufacturing facilities strategically positioned throughout the United States, Priority Plastics offers design and engineering services, technical sales support, operational excellence and plant specific customer service representatives.
Contact:
Stephanie Oliva
Marketing Manager
(720) 548-5893