New Printed Packaging Tapes from Shurtape Technologies Enhance Labelling
Press Release Summary: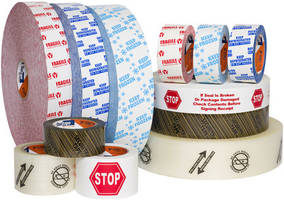 Shurtape Technologies's new printed tapes are pressure sensitive. The HP 240 features a pull edge to open. The HP 240 Fragile communicates with others to handle the package with care. It features an image of a pair of hands holding a carton to indicate fragility. The HP 242 Keep Refrigerated – Do Not Freeze indicates the need for case sealing storage in cold environments.  The HP 242 Keep Frozen:  indicates the need for extremely cold sealing and storage environments and has a snowflake design to clearly note the difference.
---
Original Press Release:
Packaging Tape that Makes a Statement
-Shurtape Technologies expands line of printed packaging tapes with enhanced messaging-
HICKORY, N.C., Oct. 24, 2018 /PRNewswire/ -- From packaging to receiving, the supply chain that cartons go through is rigorous. With so many steps – and hands – in the process, clear communication of special requirements for individual cartons is critical. That's why Shurtape Technologies LLC, a leading manufacturer of pressure-sensitive tapes, has expanded its line of printed hot melt packaging tapes to include new and improved messages.  
New additions to the existing line of stock prints include:
HP 240 Pull Edge to Open/No Knife Required: When used with a ShurSEAL® tape dispenser equipped with Folded-Edge® Technology, this tape lets receivers know that it can be removed by hand, preventing injury or product damage resulting from using a knife.
HP 240 Fragile – Handle with Care: The updated print features an image of a pair of hands holding a carton to indicate the need to handle gently.
HP 242 Keep Refrigerated – Do Not Freeze: Formulated for use in cold temperature case sealing environments.
HP 242 Keep Frozen: Built to perform in extremely cold sealing and storage environments and featuring a snowflake design to clearly differentiate it.
The new and improved prints join the existing portfolio, including:
HP 240 Security Tape: Indicates and draws attention to a tamper-evident seal.
HP 240 Stop if Seal is Broken: Used as a safety precaution in the event of a pilfered or damaged carton.
"In many industries, labeling cartons with instructions is critical to ensuring that products are safely transported from manufacturer to customer," said Bradley Dunlap, Product Marketing Manager for packaging tapes at Shurtape. "Our expanded line of HP Series printed packaging tapes provides manufacturers with additional messaging and updated prints that offer clear, easy-to-read instructions."
To choose a stock packaging tape print – or create your own custom message – visit Shurtape.com.
SHURTAPE® BRAND
Shurtape® brand, marketed by Shurtape Technologies' Industrial Group, proudly serves a variety of professional and industrial markets with a comprehensive product portfolio that includes masking and paper, foil and film, packaging, double-coated, cloth and duct, and other specialty tape products, in addition to packaging dispensers and equipment for automated and manual packaging applications. For more information, visit shurtape.com, find us on Facebook®(facebook.com/Shurtape), follow us on Twitter® (@shurtapetech) or watch our videos on YouTube® (youtube.com/ShurtapeTech).
Facebook® is a registered trademark of Facebook, Inc.
Twitter® is a registered trademark of Twitter, Inc.
YouTube® is a registered trademark of Google Inc.
Corporate Contact: 
Lydia Eagle • 828.267.8508 • leagle@shurtape.com
SOURCE Shurtape Technologies, LLC
Web Site: https://www.shurtape.com
Contact This Company Download Spec Sheet
More from Adhesives & Sealants