New Pregis Airspeed Autoflow Increases Speed, Improves Ergonomics, and Reduces Cost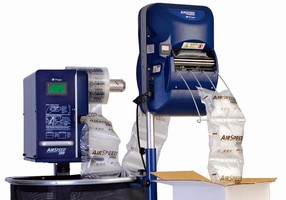 DEERFIELD, Ill. (Aug. 15, 2007) - The AirSpeed AutoFlow cushion dispenser is now available from Pregis Corporation, providing maximum productivity through automated into-the-box delivery of inflatable cushioning material.

This revolutionary patented design was engineered with operator comfort and speed in mind. By separating cushions automatically, the AutoFlow eliminates the repetitive arm motion required with other systems. It also increases pack speeds by 25 percent to 50 percent, compared with traditional packaging methods. For operations with seasonal demand spikes, the AutoFlow reduces the need for temporary labor and eliminates the undesirable effects of bottlenecks.

"AutoFlow is ideal for high-volume fulfillment operations that seek top-quality, cost-effective packaging systems," says Tom Wetsch vice president of product development at Pregis. "Not only does it optimize productivity and ergonomic comfort, it also improves packaging throughput."

Paired with Pregis' AirSpeed 5000, AutoFlow brings unprecedented speed and simplicity to on-demand, into-the-box dispensing. It is easy to program and load, and can be programmed to run strands of any length for ultimate flexibility.

Inflatable cushions are a cost-effective, lightweight alternative to loose fill, paper, foam and bubble packaging materials. They provide maximum protection while reducing material and shipping costs, because they fill larger voids without increasing packaging weight. Because they are recyclable and reusable, inflatable cushions are also environmentally beneficial.

About Pregis Corporation

Pregis Corporation is a leading global provider of innovative, protective and flexible packaging products, including those for food and hospital applications. The specialty-packaging leader currently operates 45 facilities in 18 countries around the world. Pregis Corporation is a wholly owned subsidiary of Pregis Holding II Corporation. For more information about Pregis, visit the company's Web site, www.pregis.com.