New Powr-Flite's Comfort Pro Backpacks Win the Gold!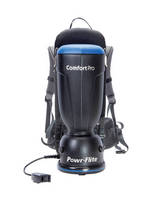 The new Powr-Flite Comfort Pro backpack vacuums have earned the Gold Seal of Approval from the Carpet and Rug Institute, the pinnacle of cleaning performance.



A high performer with four-stage filtration and low decibel ratings, the Comfort Pro is available in 6- and 10-quart capacity in standard or premium models with hands-free cleaning.



The patented Aircomfort System from Deuter, the top manufacturer of hiking backpacks in the world, provides unparalleled comfort.



The most advanced backpack on the market today, Comfort Pro is the new standard in backpack cleaning.



For more information, visit www.powr-flite.com or call toll-free: 800-880-2913.



More from Controls & Controllers