Miscellaneous Management Systems
New Power Management Real-Time Clock Products Feature Battery Management Functions
Press Release Summary: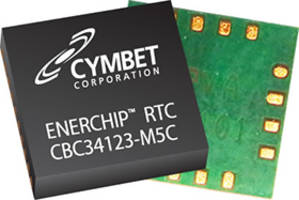 Power Management Real-Time Clock Product family from Cymbet is suitable for low power sensors, consumer products, portable medical devices, and industrial systems applications. PMRTC products come with integrated power switching and battery management that provides support for charging EnerChips™, rechargeable coin cells, and supercapacitors. EnerChip™ batteries are available in wafer and bare die form and are produced on silicon wafers.
---
Original Press Release:
Cymbet Introduces New Power Management / Real-Time Clock Product Family and is Now Shipping EnerChip™ Micro-Batteries from High Volume Production Foundry
Cymbet is Introducing a Family of Ultra-Low Power Real-Time Clock Products Having Integrated Power Switching and Battery Management Functions; PMRTC Products Offer New Features for Designers of Low Power Devices.
MINNEAPOLIS (PRWEB) MAY 01, 2018
As part of an initiative to broaden its product portfolio and leverage the unique attributes of the EnerChip™ solid state rechargeable micro-battery, Cymbet Corporation is introducing an integrated circuit combining an ultra-low power Real-Time Clock (RTC) with power management functions that support power switching and battery management. The Power Management with RTC (PMRTC) product family supports charging voltage options for a variety of backup power sources – EnerChips™, rechargeable coin cells, and supercapacitors. The PMRTC offers best-in-class operating current, on-chip temperature sensor, and I2C and SPI interface bus options. PMRTC products will serve applications in low power sensors, consumer products, portable medical devices, and industrial systems. Sampling will begin in the 2nd quarter of 2018, with a derivative product family containing an integrated EnerChip™ to follow in late 2018.
Cymbet Corporation also announced that it has begun shipping its EnerChip™ batteries from the high volume production foundry at X-Fab, Texas. This comes as a result of significant investment in developing a production manufacturing process for its solid state micro-batteries. EnerChips™ are produced on silicon wafers using patented and proprietary methods and processes in a wafer fab environment. EnerChips™ are available in wafer and bare die form, in addition to surface mount packages.
In related industry news: Jeff Sather, VP Technology and Solutions at Cymbet, will be speaking at the pre-conference symposium at Sensors Expo & Conference in San Jose, CA, on Tuesday, June 26. His presentation will focus on energy storage devices for miniature sensing applications which Cymbet is uniquely suited to address. Cymbet will have a booth in the Expo Hall, where attendees are invited to stop by to discuss how they can use Cymbet's products in their designs.
About Cymbet Corporation 
Cymbet, a privately held clean technology company, is the world leader in solid state energy storage solutions for microelectronic systems. Cymbet's technology utilizes semiconductor fabrication processes to produce energy storage devices with no liquids, gels, or harmful chemicals. The company's EnerChips™ provide electronic system designers with embedded power capabilities. Cymbet's components enable its customers to create innovative, integrated products in an ever-expanding field of electronic devices requiring safe, rechargeable, miniature power sources. Cymbet has a manufacturing facility in Lubbock, Texas, in partnership with X-FAB, and product development and test operations in Elk River, Minnesota. Visit Cymbet online at: http://www.cymbet.com.
For further information: 
Jeff Sather, VP Technology and Solutions 
jsather(at)cymbet(dot)com 
Tel: (+1) 763-633-1791
More from Test & Measurement