New Power Capacitors for Rated Voltages of 1100 to 2300 V
Press Release Summary: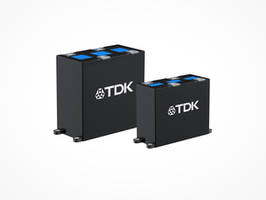 ModCap covers 365 µF to 2525 µF capacitance range
Maximum permitted hot spot temperature is 90°C
Available in 243 x 169.5 x 90 mm or 258 x 215 x 115 mm versions
---
Original Press Release:
TDK Releases ModCapTM – a Modular Capacitor Concept for DC Link Applications
TDK Corporation (TSE: 6762) presents ModCap™ − a modular capacitor concept for DC link applications. The newly developed power capacitors are available for rated voltages of 1100 V to 2300 V and cover a 365 µF to 2525 µF capacitance range. The rated currents between 105 A and 180 A are type-conditioned with all types designed for 5 kA recurrent pulse currents. The maximum permitted hot spot temperature is 90°C.
In contrast to conventional cylindrical designs, the B25645A* capacitor series are cubic in design and available in two versions of either 243 x 169.5 x 90 mm or 258 x 215 x 115 mm. Due to this design, the capacitors can be fitted very close to IGBT modules, thus producing very short lead lengths. This, combined with a very low 14 nH self-inductance of the capacitors, stops any substantial voltage overshooting at the IGBT modules when the current is shut off. As a result, generally no snubber capacitors are needed. This design also makes parallel connections of capacitors easy. Typical applications are compact converters for traction, renewable energies and industrial applications.
The artificial resin-filled plastic housings comply with UL94 V-0. In addition, the fire and smoke formation requirements, in line with IEC 61071, IEC 61881-1, EN 45545-2 HL3 R23, are met. This makes these capacitors well suited for use in trains.
Main fields of application
Compact converters for traction
Renewable energies
Industrial applications
Main features and benefits
Modular concept
Wide voltage range from 1100 V to 2300 V
Wide capacitance range from 365 µF to 2525 µF
A maximum 90 °C hot spot temperature
Qualified according to IEC 61071, IEC 61881-1, EN 45545-2 HL3 R23 regarding fire and smoke formation
Plastic housing corresponding to UL94 V-0
About TDK Corporation
TDK Corporation is a world leader in electronic solutions for the smart society based in Tokyo, Japan. Built on a foundation of material sciences mastery, TDK welcomes societal transformation by resolutely remaining at the forefront of technological evolution and deliberately "Attracting Tomorrow." It was established in 1935 to commercialize ferrite, a key material in electronic and magnetic products. TDK's comprehensive, innovation-driven portfolio features passive components such as ceramic, aluminum electrolytic and film capacitors, as well as magnetics, high-frequency, and piezo and protection devices. The product spectrum also includes sensors and sensor systems such as temperature and pressure, magnetic, and MEMS sensors. In addition, TDK provides power supplies and energy devices, magnetic heads and more. These products are marketed under the product brands TDK, EPCOS, InvenSense, Micronas, Tronics and TDK-Lambda. TDK focuses on demanding markets in automotive, industrial and consumer electronics, and information and communication technology. The company has a network of design and manufacturing locations and sales offices in Asia, Europe, and in North and South America. In fiscal 2020, TDK posted total sales of USD 12.5 billion and employed about 107,000 people worldwide.
Press Contact:
Debbie Martin, TDK Electronics Inc.
Fountain Hills, AZ, USA
+1 480 836 4104
debbie.martin@tdk-electronics.tdk.com
Sarah MacKenzie, Publitek
Tel: +1 503.720.3743
E-mail: sarah.mackenzie@publitek.com
More from Electronic Components & Devices