New Portable Generators with CO Shield Technology
Press Release Summary: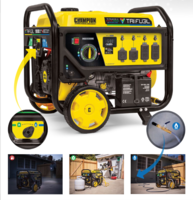 Offers flexible and reliable source of emergency backup power
Runs on natural gas, propane or regular gasoline and an electric ignition
Comes with hoses for quick connection to natural gas line or a propane tank
---
Original Press Release:
Duthie Power Services Carries Champion Tri-Fuel Portable Generators
Duthie Power Services now has in stock 10kW Champion Tri-Fuel Portable Generators, offering Southern California homeowners a range of options for home generators. Duthie Power has over fifty-five years in the generator industry, providing businesses and property managers everything from brand new industrial generator installation to regular maintenance and genset services. The expansion into residential generators has been a success for a company whose guiding belief is that everyone should have access to affordable power.
Champion's 10kW Tri-Fuel portable generator is an affordable solution for homes that either can't afford a standby generator or don't have the space and permitting to allow installation of a permanent generator. With a tri fuel option that, with the turn of a knob, allows the homeowner to use either natural gas, propane or regular gasoline, plus an electric ignition, the Tri-Fuel is a flexible and reliable source of emergency backup power.
From Ventura County to San Diego, Southern Californians are becoming more and more accustomed to power outages and public safety power shutoffs. Where once a suburban home in Lakewood, CA, was relatively immune to power outages during wildfire season, they are now experiencing frequent planned outages so utility companies can mitigate wildfires elsewhere on the electrical grid.
Karen Cooper, Duthie's Residential Sales Specialist, explains the changes she's seen, "Homeowners are working from home and becoming increasingly reliant on electrical appliances, whether it's their refrigerator and air-conditioning or a safety system and Wifi. Unfortunately, Southern California homes tend to be built close to one another which doesn't allow the five feet of clearance needed to safely install a standby generator."
Additionally, installation of a generator is best done by an electrician or professional who understands electrical panels and gas lines, and this expertise adds to the cost of purchasing a standby generator. Karen adds, "We needed an option for folks whose homes wouldn't safely accommodate a permanent generator and for folks who simply didn't have the budget to afford a $8- $10,000 installation. The Tri-Fuel has been a great alternative for customers."
Champion is not only an excellent manufacturer of emergency power supplies, but it's also a fellow Southern California-local business with offices up the freeway from Duthie Power in Santa Fe Springs. Champion's quality assurance is evident in the Tri-Fuel's "CO Shield Technology" -- a protection against carbon monoxide poisoning when generators are run in poorly ventilated areas. The Tri-Fuel also comes with hoses for quick connection to your natural gas line or a propane tank. As Kyle Michael, Duthie Power Sales Engineer, demonstrates in a Tri-Fuel showcase video, you can quickly set up this portable generator to deliver power to your home or home office within minutes.
For over 50 years, Duthie Power Services has served as the largest independent generator and fire pump service provider in Southern California. The Duthie team specializes in generator sales, installations, rentals, routine maintenance, diagnostics, repairs, and 24/7/365 emergency power restoration. The company's commitment to using high-quality parts, coupled with fast, guaranteed customer service and preventative maintenance packages, have made them an industry leader. Duthie Power is a family-owned business and active member of BOMA San Diego (Building Owners and Managers Association), as well as EGSA (Electrical Generating Systems Association) with offices in Long Beach and San Diego California.
For more information, contact Duthie Power Services at 800-394-7697 or Shana Duthie at shana.duthie@duthiepower.com.
More from Agricultural & Farming Products