New Polypropylene Film Capacitors are Rated to UL 810 Standards for Fail-Safe Operation
Press Release Summary: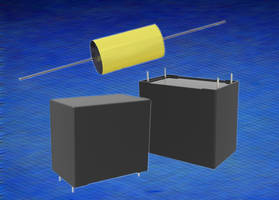 Cornell's 951C and 953B Series Polypropylene Film Capacitors are offered in cylindrical body with axial leads and rugged radial box form factor respectively. 951C Series capacitors offer capacitance values ranging from 0.825 to 40 µF whereas the 953B series provide 2.5 to 50 µF. Units are available at 160, 250 and 275 Vac and deliver a life of 10,000-hour service without derating. These film capacitors are operated in -40 to +85°C temperature range and are suitable for UPS, AC power supplies and AC filtering applications.
---
Original Press Release:
Cornell Dubilier Introduces Protected Metalized Polypropylene Film Capacitors Target UPS Systems and AC Filtering Applications
Design incorporates fuse protection, UL 810 Approved for Fail-Safe Operation
Liberty, SC (June 2018) — Cornell Dubilier announces the availability of its newest metalized polypropylene film capacitors for UPS, AC power supplies and general AC filtering applications. The 951C and 953B series offer strong performance for filtering in applications where high ripple currents are encountered and benign end-of-life failure mode is essential. The 951C has a cylindrical body with axial leads, while the 953B has a rugged radial box form factor.
Both capacitors offer a fused, segmented metallization pattern, providing significant circuit protection. UL 810 approval assures fail-safe operation under fault conditions. The metallization pattern is deposited on a low-loss, high-grade polypropylene dielectric. The builtin fuse-links limit capacitance loss to a small segment within the capacitor. This is in contrast to the larger areas of uncontrolled capacitance loss observed with non-segmented types. This capability is not usually available for board-mounted capacitors.
The axial-leaded 951C Series is offered in values ranging from 0.825 to 40 µF, while the 953B spans 2.5 to 50 µF. Voltage ratings in both series are available at 160, 250 and 275 Vac. Both types offer -40 to +85°C performance and meet the requirements of UL 94V-0 for flammability.
With a 10,000-hour service-life expectancy without derating, series 951C and 953B capacitors will excel at providing reliable filtering and smoothing for today's demanding applications in UPS systems, AC power supplies and more.
Samples of 951C and 953B capacitors are available in 4-6 weeks, production in 8-10 weeks. For inquiries, contact: Mike Rapoza, Product Marketing Manager, mrapoza@cde.com, (508) 996-8561 ext. 1110. For more information on these series visit: http://www.cde.com/news/2018/6/953b
Data Sheets: 951C Data Sheet or 953B Data Sheet
Since its founding in 1909, CDE has been dedicated to advancing capacitor technology for new applications. The company combines innovative products with engineering expertise to provide reliable component solutions for inverters, wind and solar power, electric vehicles, power supplies, motor drives, HVAC, motors, welding, aerospace, telecom, medical equipment and UPS systems. A global company, Cornell Dubilier has ISO-9001 certified manufacturing and distribution facilities in Liberty, SC; New Bedford, MA; Mexicali, Mexico; and Hong Kong.
Contact:
Diane Antonietta
Marketing Communications Manager
(508) 996-8564 x 1168
More from Computer Hardware & Peripherals