New Polygon Machine is Suitable for Close-Quarter Mechanical Rooms
Press Release Summary: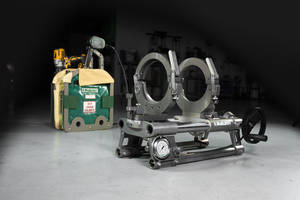 McElroy's Polygon™ Machine is designed for miter, butt and socket fusion operation in mechanical, plumbing and HVAC piping industry. Unit provide miter and butt fusion joints for 63mm to 160mm polypropylene pipe from zero- to 45-degree angles. Polygon comes with quick-clamp, pivoting, jaws and pivoting pipe for keeping pipe level in the jaws.
---
Original Press Release:
McElroy Unveils the Polygon™ All-in-One Machine for Miter, Butt and Socket Fusion
TULSA, Okla. (May 23, 2018) — McElroy, a leading manufacturer of pipe fusion equipment, has unveiled the new Polygon, a versatile tool uniquely built for the needs of the mechanical, plumbing and HVAC piping industry.
The Polygon is the industry's first manual machine for miter, butt and socket fusion to offer DataLogger® capability which allows contractors to meet the growing requirement for better traceability and assurance that joints are fused according to standard. The Polygon can produce miter and butt fusion joints for 63mm to 160mm polypropylene pipe from zero- to 45-degree angles and offers additional socket fusion capability for 63mm to 125mm polypropylene pipe and fittings.
The Polygon is equipped with quick-clamp, pivoting, jaws for easier setup and pivoting pipe supports to keep pipe level in the jaws. These features provide a wider variety of mitering options than any other machine of its kind. It is the perfect tool to use in close-quarter mechanical rooms in new construction and well as well as older structures on pipe replacement projects. Both environments need a machine that functions well in crowded conditions and around various architectural and mechanical obstructions.
"Our solution was to provide a manual machine with an adjustable, streamlined design that adapts to challenging indoor environments," said Paul Donaldson, Manager of Product Development. "Contractors now have the option of making miter fusions on site with a single machine which saves time and costs associated with molded or pre-fabricated fittings."
In response to contractor preference, McElroy incorporated a cordless feature for the facer which is powered by a battery-operated drill included in the package. Power is only required for the heater which keeps electrical needs minimal.
The Polygon's compact design makes it great for tie-in fusions where space is limited. The pressure gauge is positioned for efficient viewing and a side-positioned wheel drive allows the operator to smoothly move the carriage. The machine's stable base makes it ideal for prefabrication and benchtop use at a comfortable height.
The Polygon is the only miter/butt fusion unit capable of socket fusion by swapping out the jaws with an optional Spider™ 125 Series 2 Adapter Kit. 
The Polygon is available through an international network of distributors who sell and service McElroy products. Go to our distributor locator to find one near you. For more information on the Polygon, visit our product page. 
Contact:
McElroy Marketing & PR Department
Email: marketing@mcelroy.com
About McElroy
McElroy is the leading manufacturer and innovator of thermoplastic pipe fusion equipment providing customer-driven solutions for HVAC, plumbing, mechanical and the underground construction industry. Our equipment for polypropylene pipe is available in various models to accommodate specific jobsite requirements. We have machines for socket, outlet, miter and butt fusion from 16mm to 630mm (3/8" to 24"). For the best machines, service and training the fusion industry has to offer - make it a McElroy.
More from Architectural & Civil Engineering Products