New PNP3 Series of Pushbutton Switches from C&K Built for Rugged Applications
Press Release Summary: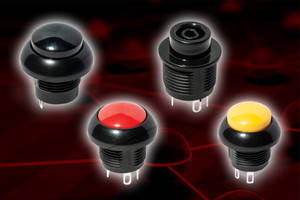 C&K's new PNP3 pushbutton switch series features a no-cap option as well as lower operating force to reduce user fatigue. The switches, which are rated for 1,000,000 cycles, are designed for front panel mounting and are shock and vibration tested. Switches also have threaded bodies with a dome bezel option, and are mounted in black PBT/PC thermoplastic housing with IP68 rated silicone rubber seals. Its silver contacts can handle resistive currents up to 5 A, with gold over silver contact options and multiple double break circuit options.
---
Original Press Release:
C&K introduces additional range of sealed pushbutton switches for industrial and off-road transportation applications
New PNP3 series provides lower operating force and no-cap option
NEWTON, Mass., October 29, 2018 – C&K, one of the world's most trusted brands of high-quality electromechanical switches, today announced the launch of its new PNP3 series of sealed pushbutton switches with an additional no-cap option. The new switches are intended for rugged applications such as control grip, off-road panels, industrial instruments, lifts, and conveyor controls.
Constructed in a black PBT/PC thermoplastic housing, the switches include an internal silicone rubber seal and are rated to IP68, making them ideal for harsh environments and for power wash-down applications, or anywhere the switch may be exposed to dust, water or other damaging elements. PNP-series switches are tested for vibration (10 to 500 Hz) and shock (up to 50 g) and are rated for up to 1,000,000 cycles.
The snap action provides positive tactile feedback while the lower operating force of just 
3 N reduces operator fatigue. Designed for front panel mounting, the switches have a threaded body and are available with a dome bezel as a standard option. A range of actuator styles and colors are offered, and the PNP-series (including PNP8) switches may also be specified with the new no-cap option, allowing greater flexibility for designers.
Capable of handling resistive currents up to 5 A with silver contacts, a gold over silver contact option is available for low-current applications, down to 10 mA. Circuit options include momentary action SPST NC, SPST NO and SPDT – all with double break.
"The new PNP3 series delivers a highly reliable switch for rugged applications that is also commercially attractive," said Edward Mork, C&K Global Product Manager. "Alongside the already comprehensive range of standard options, we are now offering a 'no-cap' option, further increasing the versatility of this range." 
For more information on C&K's new PNP3 pushbutton switch, including details and specifications, click here: https://www.ckswitches.com/products/switches/product-details/Pushbutton/PNP/
About C&K
Founded in 1928, C&K is one of the world's most trusted brands of high-quality electromechanical switches. The company's unmatched custom design capabilities are recognized globally by design engineers who demand reliable switch performance. C&K offers more than 55,000 standard products and 8.5 million switch combinations to companies that design, manufacture and distribute electronics products. Used in automotive, industrial, IoT, wearables, medical, telecom, consumer products, aerospace, and POS terminals, C&K products include tactile, pushbutton, snap-acting, toggle, rocker, detect, DIP, keyswitch, navigation, rotary, slide, switchlock, thumbwheel, smart card readers, high-rel connectors and custom assemblies. C&K is headquartered in Newton, Mass. with global design centers in Newton Mass., Dole France, and Huizhou China. For more information, please visit www.ckswitches.com or connect with us on LinkedIn and Twitter.
More from Electronic Components & Devices