New PMB Series PWM Regenerative Drive Accepts Quadrature Encoder Feedback
Press Release Summary: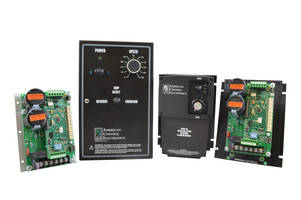 Features isolated inputs that accept floating or grounded signals (0 ± 5 VDC, 0 ± 10 VDC or 4-20 mA)
Meets UL 61800-5-1 standards and performs contactor-less reversing
Offered in NEMA 4X waterproof and dust-proof enclosure and comes with diagnostic LEDs for power and status indication
---
Original Press Release:
American Control Electronics Releases PMB Series: 4-Quadrant PWM Regenerative Drive
SOUTH BELOIT, IL – February 2019 – American Control Electronics (ACE) has introduced its next generation of PWM controls. Using a 115 or 230 VAC power source, the PMB Series is designed to run brushed DC motors, up to 180 VDC. Compared to older SCR circuitry, PWM technology creates a cleaner output voltage, which allows the motor to run at a cooler operating temperature at comparatively higher and lower speeds. The PMB Series is microprocessor-based, so it can be easily custom programmed for OEM applications, including the ability to follow quadrature encoder feedback for speed or positioning control.
These controls contain isolation and are UL Listed, with testing done to the new 61800-5-1 standard. The PMB is also a regenerative control, meaning it can reverse on-the-fly without any contacts on the motor armature. The integrated dump circuitry eliminates the need for accessory cards and external relays in high-inertia applications.
Key features include:
UL Listed in the US and Canada. Tested to UL 61800-5-1 standard.
4Q Reversing: Can perform quick, contactor-less reversing.
1.05 Form Factor
Doubler mode: Can double a 115 VAC line to run a 180 VDC motor.
Isolated inputs: Accepts floating or grounded signals 0 ± 5 VDC, 0 ± 10 VDC or 4-20 mA.
Diagnostic LEDs for power and status (undervoltage, overvoltage, short circuit/current trip, and overheating warning/trip)
NEMA 4X waterproof and dust-proof enclosure available
Thermal protection: Drive recognizes when overheated as a result of overload, first flashing a warning code on the status LED and eventually tripping if condition persists.
Stopping modes: User can regeneratively brake, decelerate, or coast motor to a stop.
Dump circuitry: Internal circuitry for the hookup of an external dump resistor
1% Base Speed Regulation
100:1 Speed Range
For additional product-specific information, please visit:
Media Contacts
Agency Contact: Julie Eleftheriou | julie@longrenparks.com | 952.913.3065
Company Contact: Michael Viola I michael.viola@ amcntrl.com I 815.624.6933
About American Control Electronics
American Control Electronics (ACE) is an electronics manufacturer located in South Beloit, IL and parent company for the Minarik Drives brand. American Control Electronics designs and produces a wide variety of AC & DC electronic control systems and power products used in industrial, commercial, EV, medical, and home automation markets. American Control Electronics has also developed several "Green" products that control motors from battery and/or photovoltaic power. The Minarik Drives brand has a 60-year reputation and is the standard for products in its class. American Control Electronics designs unique product solutions to meet the specific needs of its customers.
All products are proudly designed and built in South Beloit Illinois.