New Plastics Fabrication and Cutting Services Offers On-time Delivery
Press Release Summary: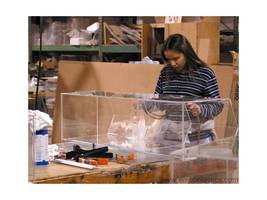 Capabilities include cut-to-size, laser cutting, machined components, custom fabrication, plastic welding and vacuum forming
Uses latest technology and high quality standards in fabrication facilities
---
Original Press Release:
Emco Industrial Plastics Offers A New and Innovative Plastics Fabrication and Cutting Services
Emco Industrial Plastics offers a new and innovative plastics fabrication and cutting services by using the latest technology and the highest quality standards in their fabrication facilities. Emco can ensure on-time delivery, whether your order is a single prototype or a high-volume production run. They utilize AutoCAD 2002 and can open and receive most any format drawing.
Their capabilities include Cut-to-Size, Laser Cutting, Machined Components, Custom Fabrication, Plastic Welding, Edge Finishing, Injection Molding, Drape Forming and Vacuum Forming. 
When it comes to your plastic needs, whether for chemical containment, plant process, piping, or manufacturing, Emco's engineering staff will work with you on material selection, sizing and design to ensure your job is a success. Their vast inventory of high-performance plastic materials matched with the individual machining techniques required separates them from the conventional machine shop. They pride themselves on quality craftsmanship, competitive pricing, and fast turnaround.
99 Commerce Rd
Cedar Grove, NJ 07009
www.emcoplastics.com