New PL-83240 All-in-One Casino Gaming System Supports Four Displays to Deliver Immersive Gaming Experience
Press Release Summary: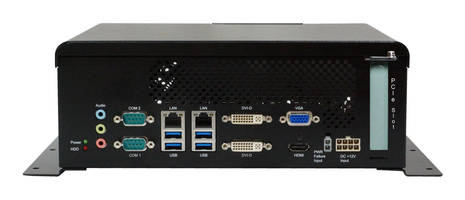 Available in a compact size of 10.2" (W) x 8" (L) x 3.8" (H)
Supports 6th Generation Intel® Core™ processors, Skylake-S, plus NVRAM, MRAM, 15W Audio Amp and I/O gaming security measures
Features 4K resolution 4096 x 2304 pixels to provide exceptional high-definition for visually-driven play
---
Original Press Release:
All-in-One (AIO) Casino Gaming System Provides an Array of Rich Features for Flexibility and Reliability
February 12, 2019 WIN Enterprises, Inc., a leading designer and manufacturer of custom solutions for OEMs, announces the PL-83240 an All-In-One (AIO), high-performance casino gaming system that supports four displays to deliver an immersive gaming experience. A combination of compact size, i.e., 10.2" (W) x 8" (L) x 3.8" (H), with high reliability helps make the PL-83240 an attractive casino gaming system for developers.
WIN Enterprises was an early innovator in AIO platforms for the casino gaming industry. The company recognized the need for casinos to constantly rearrange their playing floors to help maintain player interest. This serves to add interest, but means any add-on cards are prone to loosen and experience faults. However when a rich array of features are provided on-board, as in the PL-83240, the connections remain stable and reliable. This fact, coupled with several security features, provides a reliable casino gaming system that can be trusted. Developers are then free to streamline any unneeded features without impacting system reliability.
The PL-83240 All-In-One casino gaming system supports 6th Gen. Intel® Core™ Processors, Skylake-S, plus NVRAM, MRAM, 15W Audio Amp., and I/O gaming security measures.
The ability to support multiple independent displays is increasingly a "must have" for today's casino gaming systems. The PL-83240 supports 4 displays with up to 4K resolution (i.e., 4096 x 2304 pixels) to provide exceptional high-definition for visually-driven play.
Features:
Casino gaming system with support for the GLI standards
6th Gen Intel® Core™ Skylake-S i5/i7 CPU
Dual BIOS security-boot support
Gen. 9 graphics, Integrated Intel® Iris Pro GT4e graphic engine, 4K display with 4096 x 2304 resolution
Supports up to 4 displays: 1x HDMI, 2x DVI, 1x VGA
3x 15W audio amp
12x intrusion input
Power-failure signal input
Battery-less NVRAM by MRAM
15W audio amplifier for each channel: FR, FL, CEN/LFE
Security mechanisms for supporting the casino gaming regulations
WIN Enterprises will customize the PL-83240 based on customer's specific market needs.
About WIN Enterprises
WIN Enterprises designs and produces advanced computing systems that are marketed worldwide. Products include single-board computers, platform appliances in both desktop and rack-mounted systems. Products are supported by a strong array of integrated services that are offered across the design and manufacturing functions.
The casino gaming market is an area of particular depth, so that WIN can assist with virtually any aspect of product design required.
For more information, contact WIN Enterprises at +1 (978) 688-2000 or email WIN at sales@win-ent.com.
Press contact:
John Hill
Marketing Director
WIN Enterprises
978-688-2000 x14
More from Food Processing & Preparation