New PKP Series Motors with Mini Connector and New Design Advancements
Press Release Summary: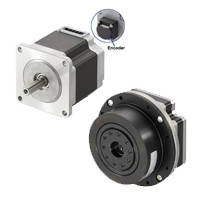 High-resolution type motors are available in 42 mm (1.65 in.) to 56.5 (2.22 in.) mm with encoder option
Shortens the length of connector's overhang reducing space
Includes motor resolution options, line driver encoder options, 400 p/rev options and PKP flat type motor with harmonic gearheads
---
Original Press Release:
PKP Series Stepper Motors Expanded Line-up with Mini Connector
New Mini Connector on More Frame Sizes
Torrance, CA – April 12, 2019
Oriental Motor is pleased to announce the popular high torque PKP Series stepper motors line-up has been expanded to include additional mini connector type. In addition to a new mini connector, the new PKP Series motors offer new design advancements.
The new mini connector PKP motor type is now available with more frame sizes. This expansion includes additional motor resolution options, line driver encoder options, 400 p/rev options and our new PKP Flat type motor with Harmonic gearheads. For the optimal results, test the new PKP stepper motor with the CVD bipolar driver.
The new mini connector shortens the length of the connector's overhang, thereby further reducing space. The new connector also widens the freedom for the cable outlet direction and orientation because the outlet direction now points upward.
The expanded PKP Series with mini connector now includes PKP Flat type motor, PKP Flat type motor equipped with Harmonic gearhead, 42 mm (1.65 in.) to 56.5 (2.22 in.) mm high resolution type motors with encoder option and 28 mm (1.10 in.) to 42 mm (1.65 in.) motors with encoder option.
Visit our web site to learn more about the PKP Series stepper motors:
http://www.orientalmotor.com/stepper-motors/2-phase-stepper-motors-pkp-series.html
About Oriental Motor
Since its founding in Japan in 1885, Oriental Motor has been a world leader in motion control systems. For over a century, we have concentrated on technological advancement and product design improvement — an emphasis evident in the sophisticated devices we market today.
Connect with Oriental Motor: Facebook, Google+, LinkedIn, Twitter and YouTube
More from Controls & Controllers