DC to DC Power Supplies (Converters)
New PKB-D Series DC-DC Converter is Suitable for High Voltage LDMOS Applications
Press Release Summary: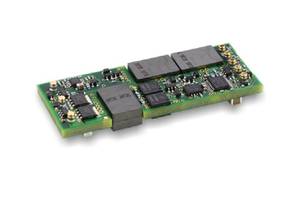 Flex Power's PKB4216HDPI DC-DC Converter is available in eighth-brick format with an output of 50V at 5A and input voltage range of 50V at 5A. The product is designed for RFPA applications and is offered with short-circuit, overload, over-temperature, output over-voltage, and input under-voltage protections. The device can be operated in -40°C to +125°C temperature range. The converter delivers an efficiency of 94.5% at 48 Vin and full load.
---
Original Press Release:
Flex Power Modules Boosts Portfolio for RFPA Applications with PKB-D 250W DC-DC Converter
High density converter ideal for Radio Frequency Power Amplifiers using GaN Transistors
50V/5A/250W available in industry standard eighth-brick format
Flex Power Modules announces the PKB4216HDPI, the latest model in its series of DC-DC converters aimed at Radio Frequency Power Amplifier (RFPA) applications in the telecom market segment. Following on from the recently introduced 750W PKJ4000 series, the PKB-D is a high-density converter in the industry standard eighth-brick format with an output of 50V at 5A, and an input voltage range of 36 to 60V. This makes it ideal for 50V GaN based RFPA's and also high voltage LDMOS applications.
The PKB4216HDPI has a wide output voltage adjustment range of 40 – 55VDC allowing for easy optimization of the connected RF section, with typical efficiency peaking at 94.5% at 48Vin and full load. Comprehensive protection is provided including short-circuit, overload, over-temperature, output over-voltage, and input under-voltage. Start-up into pre-biased loads is guaranteed, and the isolation rating is 2250VDC from primary to secondary. A remote on/off control is provided with optional positive or negative logic.
The part is available with a baseplate option for conduction cooling inside sealed enclosures with no airflow, typical of RFPA applications. This allows full-power operation at up to 85°C baseplate temperature, and up to 4A / 200W output at 100°C baseplate temperature. The full operating temperature range for the device is -40°C to +125°C, with excellent derating characteristics.
The half-bridge design of the PKB4216HDPI features the latest PWM controller technology with a high level of integration for low component count and high reliability. Synchronous rectification contributes to cutting-edge efficiency performance leading to high power density and extremely high reliability figures of up to 10.68 Mhrs.
"The PKB4216HDPI is an exciting addition to our range of RFPA power converters," explained Olle Hellgren, Head of Business and Product Management at Flex Power Modules. "With OEM's involved in 5G seeing global design wins and imminent roll out, together with the use of GaN and new-generation LDMOS transistors, the PKB4216HDPI is an ideal fit as a power source. The part will also find applications in the Internet of Things, mobile back- and front-haul, and in-building wireless communication infrastructure, as well as Power over Ethernet (PoE) applications.
The new PKB4216HDPI module has been designed and manufactured by Flex Power Modules to deliver the levels of quality and performance that power system designers have come to expect for their system designs.
The PKB4216HDPI series is available in production now in OEM quantities.
About Flex Power Modules
Flex Power Modules, a division of Flex (NASDAQ: FLEX), designs and manufactures scalable power supply solutions that improve the operational efficiencies of advanced data center, IT information and communications networks. Flex Power Modules' products provide a complete on-board system solution for cloud, storage and server applications and address customer challenges while delivering superior quality, cost and performance at scale.

About Flex
Flex is the Sketch-to-Scale® solutions provider that designs and builds Intelligent Products for a Connected World™. With approximately 200,000 professionals across 30 countries, Flex provides innovative design, engineering, manufacturing, real-time supply chain insight and logistics services to companies of all sizes in various industries and end-markets. For more information, visit flex.com or follow us on Twitter @Flexintl. Flex – Live Smarter™
Contact for editorial information:
Nayl D'Souza, Account Director, Publitek
Tel: +44 (0)1225 470000
Email: nayl.dsouza@publitek.com
Contact for company information:
Tuuli Waern, Technical Marketing Manager, Flex Power Modules
Email: tuuli.waern@flex.com
More from Laboratory and Research Supplies and Equipment