New PEROXCAP Hydrogen Peroxide Measurement Probe Comes with On-Site Calibration Capability
Press Release Summary: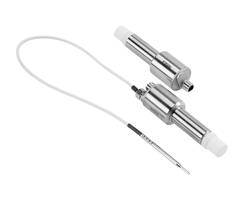 The HPP271 PEROXCAP Measurement Probe is used for measuring hydrogen peroxide vapors. The unit offers repeatable and accurate measurements in high humidities. The probes are offered in IP65 rated corrosion resistant housing and provides accurate continuous in situ measurements. The PEROXCAP probes allow user to calibrate them using Insight PC Software using water vapor or with H₂O₂ vapor.
---
Original Press Release:
Vaisala Broadens Its Product Offering for Ecological Bio-Decontamination Processes
Vaisala introduced today the upgraded HPP272 and a new HPP271 measurement probe for the environmentally friendly hydrogen peroxide bio-decontamination processes. Both probe models continue to use Vaisala's proprietary PEROXCAP® sensor for measuring hydrogen peroxide bringing all the benefits of its world leading accuracy, repeatability, and stability into play.
The new Vaisala PEROXCAP® Hydrogen Peroxide HPP271 measurement probe brings stable, repeatable and accurate H₂O₂ vapor measurements to those customers, who require only ppm (parts per million) measurements for example in vapor generators.
Also the flagship 3-in-1 PEROXCAP® Hydrogen Peroxide, Humidity, and Temperature Probe HPP272 has been boosted by specifying the ppm measurement accuracy in a wide temperature range, varying from +5°C to +50°C. The upgraded Vaisala HPP272 continues to measure vaporized H₂O₂, temperature and humidity, referring to both relative saturation and relative humidity. In the upgraded probe, also the measurement accuracy of relative saturation has been improved. Additionally it features dew point and vapor pressure measurements.
Both of the newly launched smart probes incorporate a timesaving on-site calibration capability, which is enabled by Vaisala's Insight PC Software. On-site calibration can be done either by using water vapor or with H₂O₂ vapor. The software allows convenient setup and diagnostics of the HPP probes and all other Indigo-compatible smart probes. The latest Insight PC Software allows now also short-term data logging for 48 hours.
The new probes are optimized to provide accurate and repeatable measurements even in high humidities. Both of the new probes have compact and corrosion resistant housing with IP65-rating. The probes incorporate also digital and analog outputs and annual calibration interval with traceable H₂O₂ factory calibration.
The Vaisala HPP272 has been widely adopted by the pharmaceutical industry, isolator and material transfer hatch manufacturers and for room bio-contamination purposes. It offers reliable and accurate continuous in situ measurements and supports successful regulatory audits.
First shipments of the products are taking place in the beginning of October.
Please join the webinar on November 28 at 5-6pm (EET) to learn more about measuring humidity in H₂O₂ bio-decontamination applications and the role of relative saturation measurement.
More information on the newly introduced measurement probes and the upcoming webinar:www.vaisala.com/PEROXCAP
Vaisala is a global leader in environmental and industrial measurement. Building on over 80 years of experience, Vaisala contributes to a better quality of life by providing a comprehensive range of innovative observation and measurement products and services for chosen weather-related and industrial markets. Headquartered in Finland, Vaisala employs approximately 1,600 professionals worldwide and is listed on the Nasdaq Helsinki stock exchange.
www.vaisala.com
www.twitter.com/VaisalaGroup
More information for the media:
Vaisala Media Desk
+358 20 6198800
comms@vaisala.com
More from Electrical Equipment & Systems