New PCU Series of Controllers Operate from 15 to 24 V DC and Provides Different Voltage or Current Outputs
Press Release Summary: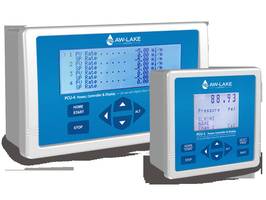 ---
Original Press Release:
AW-Lake Introduces The PCU Series of Controllers that Provide Local Display of Any Thermal Mass Flow Meter or Controller in a Single or Multi-unit Network
Oak Creek, Wisconsin-March 26, 2019 - AW-Lake Company introduces its new PCU Series of Controllers that connect with Vogtlin or any thermal mass flow meter or controller to provide a local display of flow output. Serving as a single or multi-channel mass flow controller with up to four channels, the PCU instruments support multiple unit networked operations. A large, high-contrast backlit display offers easy-to-read views of process variables and programmed setpoints for each connected device on one screen.
The PCU Series offers process control functionalities for batching, setpoint control, resettable dual totalizer and valve override control. Gas factor scaling allows users to set units to any fluid. Units are programmable to provide alarm status for high and low rates both visually and audibly. 
Configurable from a keypad or using an RS-232 connection to a computer or PLC, the PCU Controllers offer remote readout, setpoint control, and data acquisition capabilities. Built-in diagnostics ensure trouble-free operation by testing system operating status, memory condition, communication adapter status, display functionality, and keypad operation at every power-up.
"AW-Lake's new PCU Series of Controllers satisfies our customers' need for a local display of our Vogtlin line of thermal mass meters and controllers," explains Mark Iverson. "The PCU Controllers also provides users with the option to read different process variables remotely from a computer or PLC."
PCU Series of Controllers are available in multiple configurations including panel mount, tabletop, and DIN Rail. Units meet environmental compliance for RoHS EPD 2011/65/EU and UL-UA and Canada UL 61010. Panel mounted units are NEMA 4x rated for protection against environmental conditions such as rain, snow and ice.
The PCU Controllers operate from 15 to 24 V DC and provide a variety of voltage or current outputs. Operating temperatures range from 32◦ to 104◦F (0◦ to 40◦C). For more information, visit the website at https://aw-lake.com/product/pcu/ or contact Marcia Reiff, Marketing Manager, at 800-850-6110, e-mail mreiff@aw-lake.com.
About AW-Lake Company
AW-Lake Company, a TASI Group company, is a leading North American design, manufacturing and service company of flow measurement technology for the fluid control needs of various industries, including oil & gas, chemical processing, paints & coatings, hydraulics & pneumatics, food processing, and fluid power. Together with its European sister companies, KEM-Kueppers, Vogtlin Instruments, and LitreMeter, AW-Lake services and distributes a broad portfolio of flow measurement instrumentation throughout North America, South America, Europe, and Asia. For information, please contact Marcia Reiff, Marketing Manager, at 800-850-6110, e-mail mreiff@aw-lake.com, or visit AW-Lake's Web site at www.aw-lake.com.
About the TASI Group
The TASI Group of Companies is comprised of three technologically advanced product platforms commonly linked by a disciplined focus on Test, Measurement, and Assembly. Each TASI company delivers products and services to today's world manufacturing environments, focusing on Automotive, Medical Devices, Oil and Gas, Plastic Containers, Consumer and General Industrial markets. For more information about the TASI Group, visit their Web site at www.tasigroup.com.
Contact:
Marcia Reiff
2440 W. Corporate Preserve Dr. #600
Oak Creek, WI 53154 USA
262-898-2511
More from Electronic Components & Devices