New Packaging Design Features Bold Look with Vibrant Graphics
Press Release Summary: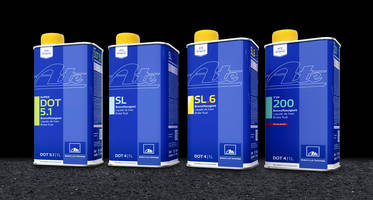 Designed for brake fluids such as ATE Super DOT 5.1, ATE SL.6, ATE SL and ATE Typ 200
Includes strong ATE branding and clear product identification as well as application designation
---
Original Press Release:
Continental Debuts New Packaging Design for ATE Brake Fluid Portfolio
Allentown, PA February 1, 2021 – Continental, one of the world's leading brake system manufacturers and suppliers, has just introduced a new packaging design for its exceptional range of high performance replacement brake fluids. The full portfolio, which is distributed throughout the North American market, includes ATE Super DOT 5.1, ATE SL.6, ATE SL, and ATE Typ 200 Brake Fluids. The new packaging scheme features a bold look with vibrant graphics, strong ATE branding, and clear product identification and application designation.
Dan Caciolo, Head of Product Management for Continental Independent Aftermarket Powertrain & Brake Systems, noted "We've changed the package design of our brake fluids to create a stronger continuity for the entire line and make it easier for our customers to recognize our high-quality products and branding. But of course, only the packages have changed. The ATE brake fluids inside are the same performance-proven formulations preferred by OEMs and professional service technicians alike."
ATE Brake Fluids are specially formulated to meet specific vehicle performance and safety requirements. ATE Super DOT 5.1 Brake Fluid sets a new technological standard for brake fluids with a high wet boiling point of 356 degrees F and outstanding viscosity even in extreme cold operating conditions. ATE SL.6 Brake Fluid is the ideal brake fluid replacement for ESP, ABS, and ASR electronic brake systems. ATE SL Brake Fluid is ideal for hydraulic brake and clutch systems. Finally, ATE Typ 200 Brake Fluid features a special formulation for the extreme demands of high performance and racing applications.
ATE (www.ate-na.com) is an aftermarket brand of Continental, one of the world's leading brake system manufacturers and suppliers. From the introduction of the first hydraulic brake system in 1926, to the development of the first antilock braking system prototype in 1967, the ATE brand has a rich history of innovation and experience in the design and production of advanced brake system technologies.
For more information: www.ate-na.com or contact: salessupport-us@ate-na.com
Continental develops pioneering technologies and services for sustainable and connected mobility of people and their goods. Founded in 1871, the technology company offers safe, efficient, intelligent, and affordable solutions for vehicles, machines, traffic and transportation. In 2019, Continental generated sales of €44.5 billion and currently employs more than 232,000 people in 59 countries and markets. In 2021, the company celebrates its 150th anniversary.
Drawing on more than 120 years of cooperation with vehicle manufacturers, Continental offers a broad range of spare parts in OEM quality for the aftermarket. Under brands like Continental, ATE, VDO, REDI-Sensor, ClearContact, OEM DP, Autodiagnos, Uniroyal, Semperit, and GALFER, the technology company manufactures tens of thousands of products, including tires, brakes, drive components and thermal management components. It also provides diagnostic solutions, tools and services for repair shops. Continental is one of the most important suppliers in the independent automotive aftermarket.
Anouré V. Fenstermaker
Marketing Communications Manager
Continental
Vehicle Networking and Information (VNI) 
Commercial Vehicles and Services (CVS)
6755 Snowdrift Road, Allentown, PA 18106
Tel: (484) 705-1909 , Fax: (610) 289-1766
Email: anoure.fenstermaker@continental.com
More from Mechanical Components and Assemblies