New P8 and P10 Point-Source Loudspeakers Come with Quick-Release Magnelis Steel Grille
Press Release Summary: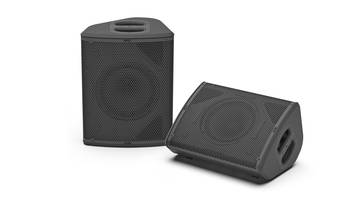 Designed to deliver an exceptional performance-to-size ratio, precise polar control and sonic quality
P8 features coaxial 8 in. LF driver with a 1.5-inch diaphragm HF driver whereas P10 has coaxial 10 in. Neodymium LF driver and 1.7-inch diaphragm HF driver
Offers 66Hz to 20 kHz frequency response for the P8, and 63Hz to 20kHz for the P10
---
Original Press Release:
NEXO Expands P+ Series with New P8 and P10 Point-Source Loudspeakers
The two new compact, lightweight and multi-purpose cabinets join the P12 model to broaden the audio possibilities for sound designers and engineers.
BUENA PARK, CALIF. (PRWEB) JANUARY 06, 2020 - NEXO, a Yamaha company, is kicking off the new year by unveiling two new compact point-source loudspeakers in its P+ Series. The new P8 and P10 models are designed to deliver an exceptional performance-to-size ratio, precise polar control and outstanding sonic quality, as well as the same innovative features seen in the company's first P+ Series model, the P12, launched in mid-2019.
These new multi-purpose speakers build on the legendary performance of their predecessors, the classic PS Series cabinets that established NEXO's global reputation. The P8 arrives exactly 20 years after the launch of the PS8, a super-compact stage monitor and PA speaker which, together with the larger PS10 (launched in 1993), became a staple of AV and audio production rental inventories and a common sight in fixed installations.
At its manufacturing headquarters just north of Paris, France, NEXO has invested in new tooling and assembly capabilities to produce the curvy, modern enclosures that are the signature of its new P+ Series. Re-imagined for the 2020s, the P8 and P10 models will put new possibilities into the hands of sound designers and engineers.
Inside custom birch and poplar plywood shells, the P8 features a coaxial 8-inch LF driver with a 1.5-inch diaphragm HF driver. The P10 has a coaxial 10-inch Neodymium LF driver and 1.7-inch diaphragm HF driver. The horn driver can rotate in both cabinets, a NEXO hallmark since its introduction in the PS Series. In the new P+ Series, the quick-release Magnelis® steel grille can be quickly removed, allowing the horn to be swapped out and changing the standard 100º x 100º dispersion to a 110º x 60º alternative. This ability to achieve such wide dispersion and power is ideal for corporate AV users who often need to make small cabinets perform like big cabinets.
Custom-designed coaxial drivers are at the heart of these speakers, responsible for smooth, clean sound and impressive SPL output: 129dB Peak for the P8 and 136dB Peak for the P10. Special attention was given to the design of the LF driver's cooling system, ensuring outstanding power handling. Frequency response is 66Hz to 20kHz for the P8, and 63Hz to 20kHz for the P10. These specifications position the new P+ Series cabinets at the top of the point-source market.
Both new models are compact and lightweight. The P10 measures 497mm high x 384mm wide x 274mm deep and weighs 15kg (approx. 19.5 x 15 x 11 inches and 33 lbs). The P8 is just 423mm x 276mm x 250mm and weighs 12kg (approx.16.6 x 11 x 10 inches and 26 lbs).
Both P+ Series models are available in touring and installation versions. In the touring version, two large handles on each side hold a 35mm pole stand adaptor and Speakon® connector for discrete connection when the cabinets are used on pole stands or in wedge monitor applications. Two other Speakon connectors are included on the back plate. In the installation version, a cable gland with a 2-core cable for audio input ensures IP54 protection during outdoor use.
The new P+ Series models' comprehensive range of accessories enables use in a variety of touring and installed applications. NEXO has applied its same speaker design principles to the accessories, achieving an element of interchangeability within the range that will be an advantage for rental inventory holders.
NEXO's R&D Director Joseph Carcopino highlighted the new processing algorithms available for the P+ Series. "Using our new generation NXAMPMk2 amplifiers, we have been able to take quite a leap forward," he said. "The P10 and P8 deliver excellent sonic performance and are much more dynamic than previous NEXO point-source models. Indeed, with its sharp polar control, the P10 will be able to compete against many of our competitors' 12-inch models. When powered with the smaller new NXAMP4x1Mk2 amplifier, it is also a very interesting alternative to even our own P12 cabinet!"
The P10 and P8 have a choice of power sources, with the NXAMP4x2Mk2 and NXAMP4x1Mk2, as well as the affordable NEXO DTD controller and DTDAMP4x1.3, which can drive 1x P10 or 2x P8 per channel. NXAMPs offer a dedicated set-up for each horn to ensure perfect coverage at any frequency.
As with NEXO's P12 speaker, the L15 is also recommended as the partner subwoofer for the P8 and P10. With a new acoustic loading technique using a 15-inch bass horn, the L15 operates with maximum efficiency as nearly the entire front face of the cabinet is used as a radiating surface. With a frequency range of 40Hz to 120Hz and 139dB Peak SPL, this sub measures up as the most powerful in its category.
The touring and installation versions of the P8 and P10 will be produced in black and white scratch-resistant paint finishes, the first use of a new paint process described by Carcopino as "100 times better than before." Applied using a special process, the paint finish prepares the P+ Series enclosures for use in all climate conditions and enables them to withstand the rigors of stage monitoring use. TUV and IP54 certification are provided for the installation versions of both cabinets.
Contact Information
Tom Di Nome
Giles Communications
http://www.giles.com
914-514-0024