New Overmolded Power Assemblies Can be Used in Harsher Environments
Press Release Summary: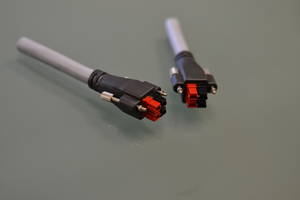 Come in rugged design that are IP 65, 67 and 68Rated
Abrasion and chemical resistant
Ideal for embedded electronics
---
Original Press Release:
Overmolded Solution for Anderson Power Connectors
ISC Engineering introduces a new overmolded solution for Anderson Power connectors. This type of connector is typically used for low voltage products, however some companies are wanting this type of connector to be robust and reliable. Since we are able to overmold these connectors in custom orientations it allows these connectors to be used in harsher environments than before.
Determined to stay ahead of the curve ISC specializes in overmolded Power assemblies ranging, but not limited to the following:
High flex life
Option for embedded electronics
Rugged design
IP Rated solutions (65 , 67 , 68)
Abrasion and chemical resistance
Advanced grade compounds ranging from Santoprene to PVC
ISC provides unparalleled molded cable expertise. Whether you already have a final design or are looking for assistance in developing a new high performance cable, we can provide you with a complete turnkey package with custom or standard cable, overmolded connectors and integrated strain relief which meet the most stringent mechanical, electrical, and environmental specifications. With ISC's injection molded solution, this not only eliminates the high cost of mechanical strain reliefs and heat shrink boots. It's also a value-added solution which allows customers to add cosmetic features such as logos, thumb pads and extended strain relief's for maximum life cycles.
In addition ISC has the capability of embedding the latest Printed Circuit Board assemblies into overmolded connectors which allows for greater functionality in a broader range of applications. In partnership with our wide variety of solutions for standard power style connectors, our modular tooling presents a host of existing tooling.
To learn more about a custom overmolded solution for you, speak directly to one of our engineers. Kyle Burk, Direct Line (909)203-1143 or email kburk@iscengineering.com
To view other products and services, visit our website http://www.iscengineering.com/