New Overhead Conveyor Drives with High Overhung Load Capacity
Press Release Summary: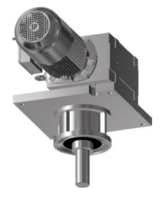 Overhead Conveyor Drives includes mounting flange and output shaft which ensure an simple, drop-in fit with industry-standard footprints
Screw Conveyor Package do not requires belt maintenance or belt guarding
nsd tupH is corrosion-resistant, lightweight, durable, dissipates heat more effectively than stainless steel and will not blister or flake
---
Original Press Release:
NORD Gear to Showcase Gear Units for Poultry Processing Industry at IPPE 2020
From conveying to pumping to packaging, heavy washdown environments are no problem for NORD's highperformance drive systems
NORD Gear Corporation, a world leader in drive technology, will showcase a variety of its solutions for the poultry industry at the International Production & Processing Expo (IPPE), January 28-30 in Atlanta. As the world's largest annual poultry, meat, and feed industry event of its kind, this year's IPPE will bring together more than 32,000 buyers and sellers from around the globe.
Visit booth #7865 in Hall B at the Georgia World Congress Center to meet with experts from NORD and learn how the company's intelligent drive solutions are helping poultry processing and production facilities improve operational efficiencies.
Featured products at the booth will include:
Overhead Conveyor Drives – Designed specifically to meet the needs of poultry and other meat processing applications, NORD's overhead conveyor drives feature heavy-duty construction and high-quality machined components.
With high efficiency performance and low maintenance requirements, these drives have a very low total cost of ownership while providing clean and reliable operation in food processing plants around the world. Mounting flange and output shaft ensure an easy, drop-in fit with industry-standard footprints.
Key Advantages:
High overhung load capacity -QUADRALIP™ sealing system
Spread bearing design with dry cavity for optimized oil leakage protection
Low maintenance, long service life
Gear efficiency up to 95%Three sizes available to accommodate a wide range of applications
Screw Conveyor Package – The NORD Screw Conveyor Package offers a cost-effective drive solution in a powerful, compact footprint. Closely stepped speed reduction ratios combined with a directly coupled gearmotor or NEMA C-face input design eliminates the need for top motor mounts, pulleys, belts, or guards. Minimizing parts and eliminating the belted input systems provides for easier system maintenance, increased reliability, and superior drive performance.
Key Advantages:
Reduced operation costs
Large ratio range
Direct drive motor options (Integral or C-face)
No belt maintenance or belt guarding required
Reduced parts / higher reliability / space savings
Higher efficiency
More direct torque transfer
nsd tupH™ – With nsd tupH, NORD provides a comparable alternative to stainless steel at a fraction of the price. Our special molecular conversion process ensures aluminum alloy drive equipment has all the surface protection food and beverage applications demand. Corrosion-resistant, easy to clean, lightweight, durable, dissipates heat more effectively than stainless steel, and will not blister or flake.
Products available with nsd tupH:
Helical inline, helical bevel, and FLEXBLOC® gear units
Smooth body motors
NORDAC® START and NORDAC BASE electronic drive solutions
Learn more about the products that will be on hand at the NORD booth and download a new brochure on how NORD solutions are used by the poultry industry.
NORD manufactures a wide selection of gearboxes, electric motors, and drive electronics in various sizes and configurations for companies in intralogistics, food and beverage, airport baggage handling, grain and bulk materials, and other demanding markets. The modular design offers unlimited versatility with more than 20,000,000 combinations of totally unique gear motors and speed reducers available – in-line or right-angle, mounted by foot or flange, featuring solid or hollow shafts – to give customers complete freedom to specify a drive solution that's perfect for the job. For more information, visit www.NORD.com, call 888-314-6673, or email info.us@nord.com.
About NORD DRIVESYSTEMS®
With more than 4,000 employees, NORD DRIVESYSTEMS has been developing, producing and selling drive technology for more than 50 years, and is one of the global leaders of full-service providers in the industry. In addition to standard drives, NORD delivers application-specific concepts and solutions for special requirements such as energy-saving drives or explosion-protected systems. In financial year 2017, annual sales amounted to $781 million. NORD now has subsidiaries and sales partners in 98 countries worldwide. The dense sales and service network guarantees optimal availability, enabling short delivery times and customer-oriented service. NORD produces a very diverse range of drives for torques from 88 to more than 2.2 million lb-in, provides electric motors in the power range of 0.16 to 1,341 HP, and manufactures frequency inverters with the required power electronics of up to 215 HP. Inverter solutions are available for conventional control cabinet installations as well as for decentralized, fully-integrated drive units.
NORD Gear | PO Box 367 | 800 Nord Dr. | Waunakee, WI 53597
Laurie ANDRES
Phone: 608-849-7300 x 2957
Fax: -
Laurie.Andres@nord.com