New Outdoor Pumps are NEMA 4X/IP66 Rated
Press Release Summary: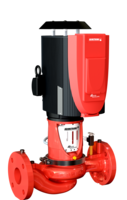 Featuring advanced performance mapping technology and load-limiting logic
Offer parallel sensorless control that provides additional energy savings
Overhead weather shield protects motor fan from ice seizures
---
Original Press Release:
Armstrong Unveils New Line of Outdoor Pumps With Permanent Magnet Motors up to 10hp Apri
April 6, 2021 – Armstrong Fluid Technology has announced that Design Envelope pumps with Permanent Magnet motors are now available NEMA 4X/IP66 rated, for outdoor installation.
Featuring advanced performance mapping technology and load-limiting logic, the new pumps reduce energy consumption by as much as 30% compared to pumps supplied with a loose variable speed drive. Together with new more efficient pump hydraulics, the new 1 to 10hp pumps can save an additional 20% compared to competing integrated products with induction motors.
Other features of the new Design Envelope outdoor pumps include:
Cover to protect touchscreen user interface from dirt & sunlight
Overhead weather shield protects motor fan from ice seizures
Factory-tested NEMA 4X rated controls are TL approved
Available Parallel Sensorless control provides additional energy savings through best-efficiency staging
Available Pump Manager service provides pump performance tracking along with alerts, alarms and data storage
"The conventional approach to rooftop and outdoor pumps is to install VFDs in a central, outdoor-rated control panel, separate from the pumps. This adds unnecessary costs and requires a larger footprint" said Zeljko Terzic, Global Offering Manager, Pumps. "Our new Design Envelope pumps feature integrated controls for a reduced footprint and substantially reduced installation costs." 
For more information visit www.armstrongfluidtechnology.com
About Armstrong Fluid Technology - With over 1200 employees worldwide, operating eight manufacturing facilities on four continents, Armstrong Fluid Technology is known as an innovator in the design, engineering and manufacturing of intelligent fluid flow equipment, control solutions and digital technologies.
In the shift toward digitalization and integration of fluid-flow systems, Armstrong leads the industry, bringing edge computing to mechanical systems, approaching energy optimization as a whole-building challenge and advancing the practice of full lifecycle management of mechanical systems. Focusing on HVAC, Plumbing, Gas Transmission and Fire safety applications, we provide energy-efficient and cost-effective solutions to building and facility professionals around the world.
Armstrong Fluid Technology is committed to sustainability. In 2019, Armstrong signed the Net Zero Carbon Buildings Commitment, a program launched by the World Green Building Council. As a signatory to the program, Armstrong has pledged to ensure that all its offices and manufacturing facilities will operate at net-zero carbon by the year 2030. 
Contact: Roger Halligan
H+A International, Inc.
312-332-4650 Ext. 22
rhalligan@h-a-intl.com