New Outbound Engagement Solution Optimizes Productivity and Utilization
Press Release Summary: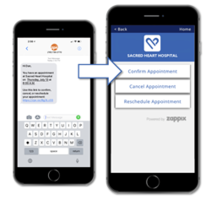 Zappix's Outbound Engagement Tools assist enterprises to automate client outreach and digitize customer experience. These tools enable customer to automatically send scheduled and personalized messages to individual users or to list of consumers with the help of campaign feature. The platform allows business enterprises to contact customers about appointments, status updates, bill reminders, promotional follow-ups and useful notices through text message and email.
---
Original Press Release:
Zappix Inc. Announces New Outbound Engagement Solution to Help Customers Improve Business Outcomes
The leading On-Demand Visual IVR provider has added new outbound engagement tools to optimize productivity and utilization.
BURLINGTON, MASS. (PRWEB) SEPTEMBER 05, 2018 - The fast growing Zappix, Inc. has added Outbound Engagement tools to its already customer focused digital self-service platform, creating a comprehensive solution for businesses looking to reduce no-shows, automate client outreach, and digitize customer experience. The solution helps enterprises improve the bottom-line through increased productivity and reduced costs.
The new offering allows Zappix customers to automatically send scheduled, personalized messages to individual users or to lists of consumers via easy to use campaign features. The Zappix Outbound Engagement platform gives businesses the option of contacting customers about appointments, as well as status updates, bill reminders, and other useful notices via text messaging and email.
Zappix customers have already responded favorably. Clients in the healthcare industry are using the service to reduce no-show rates and increase revenues, and logistics customers are utilizing the service at every stage of the customer life-cycle: promotions, appointment confirmations and status updates.
"We are very excited to announce the addition of the Outbound Engagement solution. There are ample use cases that can be better served using this new functionality," said Yossi Abraham, president of Zappix, Inc. "This new addition gives our customers the ability to improve business outcomes by using automated digital communication to increase productivity and utilization of their resources."
The new addition rounds out a robust set of features geared toward providing users fast, reliable, automated service for the queries business receive most often. This solution creates value for many use cases, including:
Appointment Confirmation Process 
Status Updates (on orders and tasks) 
Promotional Follow-Ups 
Actionable Bill-Payments
When combined with the Zappix platform's seamless integration with back-end systems like CRMs and scheduling systems, the Outbound Engagement solution provides a fully automated and streamlined solution for enterprises.
About Zappix:
Zappix's cloud-based Visual IVR provides enterprises with a solution designed to improve the user journey during contact center interactions through mobile web-app functionality and digital self-service capabilities without the need to download a native app or connect to a live agent.
The Zappix Visual IVR suite provides significant benefits and ROI: reducing costs by increasing containment rates for contact centers, improving customer experience and Net Promoter Score (NPS), and creating new revenue opportunities using targeted promotional banners within the web-app to advance new offerings.
To learn more about Zappix, go to https://www.zappix.com
Contact Information
Marketing @ Zappix
Zappix
http://www.zappix.com
+1 6175641516
Johnny Rosa
Zappix
http://www.zappix.com
781-739-2770
More from Communication Systems & Equipment