New Optoma ZH500UST and ZU500UST Featuring 5,000 Lumens of Brightness
Press Release Summary: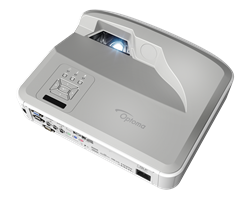 Produces powerful 1080p and WUXGA resolution images
Light source life up to 30,000 hours of operation in eco mode
Offers robust input options including HDMI and VGA, as well as LAN connectivity for control
---
Original Press Release:
Optoma's New ZH500UST and ZU500UST Laser Projectors Deliver Big, Bright Pictures from Inches Away
Optoma introduces UHDCast Pro, enabling 4K wireless streaming and screen mirroring
Fremont, Calif. (PRWeb) September 04, 2019 -- Optoma, a world-leading manufacturer of large display products, today introduced two new laser models to its projector series designed to address the display needs of the higher education, retail digital signage, corporate and house of worship markets. The Optoma ZH500UST and ZU500UST deliver stunning projection from just inches away and ease-of-use with multiple built-in installation features, delivering high quality performance and incredible flexibility to space-constrained environments.
Featuring 5,000 lumens of brightness, the new Optoma ZH500UST and ZU500UST projectors produce powerful 1080p and WUXGA resolution images, respectively. With a long-lasting DuraCore laser light source and ultra short throw ratios, these projectors produce up to 120-inch images with installation flexibility and virtually maintenance-free operation. Both projectors offer 360-degree operation and are equipped with a PC-Free USB image viewer and office document reader, enabling seamless connectivity with USB storage devices for convenient playback of audio, images and other files. The ZH500UST and ZU500UST also feature a variety of integrated features including four corner correction, horizontal and vertical lens shift and keystone correction for quick and simple installations. Both projectors also include digital signage mode support, allowing for trouble-free playback of photo and video content via USB devices.
Optoma ZH500UST and ZU500UST additional specifications
Brightness: 5,000 ANSI lumens
Contrast Ratio: 100,000:1
Light Source: Laser
Light Source Life: Up to 30,000 hours of operation in Eco mode
Wireless Displays and Smartphone Casting
Throw Ratio: 0.25:1
Digital Signage Mode
The Optoma ZH500UST and ZU500UST also offer robust input options including HDMI and VGA, as well as LAN connectivity for control via Telnet and Crestron for managed installations.
"With the new additions of the Optoma ZH500UST and ZU500UST to our extensive line of professional projectors, we're excited to provide our customers with ultra short throw options to meet their various installation needs," said Brian Soto, head of product management at Optoma Technology. "Offering incredible image quality, high brightness, built-in installation features and long-lasting performance in an enticing compact design, the Optoma ZH500UST and ZU500UST bring incredible value to our end-users."
The Optoma ZH500UST and ZU500UST are 1080p (1920 x 1080) and WUXGA (1920 x 1200) resolution projectors with 5,000 ANSI lumens, available at an estimated retail price of $3,199 and $3,299, respectively.
Optoma Launches UHDCast Pro for Seamless Content Streaming
Transform an ordinary 4K experience with the Optoma UHDCast Pro, which enables wireless screen mirroring and PC-free functionality with 4K displays via iOS, Mac OS X, Android and Windows operating systems. Designed for effortless collaboration and content sharing, the UHDCast Pro also offers 4-way split-screen functionality, as well as media sharing via Digital Living Network Alliance (DLNA), AirPlay and Casting functions. With the device's integrated office document reader, web browser and media player, users can easily open Microsoft Office, iWork, video, music and image files for easy PC-free use.
The Optoma UHDCast Pro is available for purchase at an estimated retail price of $129.
About Optoma Technology
Optoma combines cutting-edge technology and innovation to deliver remarkable visual display products designed to connect audiences with engaging video and audio experiences. From the company's ProScene projectors and Creative Touch interactive flat panel displays, to LED displays, Optoma's suite of products can meet the demands of nearly any professional environment, including conference rooms and classrooms, digital signage, corporate, houses of worship, retail, simulation environments and control rooms. Optoma Technology is the U.S. headquarters for The Optoma Group, with continental headquarters also in Europe and Asia. For more information, please visit http://www.optoma.com.
Contact Information
Areany Tolentino
Crafted Communications
http://www.optomausa.com
+1 2136318178