New Optical Accelerometers from TECHNICA Comes with Industrial Grade Fiber Bragg Gratings
Press Release Summary: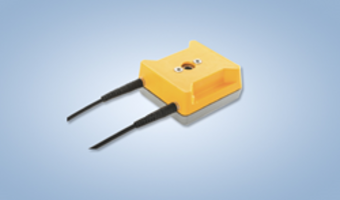 The Optical Accelerometers include T310 (High-Shock Proof) and T320 (General Purpose) models and are designed for use in civil engineering, marine, railways, aerospace and industrial applications. The units come with tight dimensional, materials control with a patented transducer design. They are immune to lightning and electromagnetic interference and are used in monitoring one, two, or three axes of acceleration.
---
Original Press Release:
TECHNICA Announces New Manufacturing and Sales Cooperation Agreement with FUGRO and Releases New Family of Premium Grade Optical Accelerometers
TECHNICA releases a new family of industrial grade premium performance and reliability Optical Accelerometers based on patented technologies licensed from FUGRO, starting with the T310 High-Shock Proof Accelerometer and T320 General Purpose Accelerometer models for serving civil engineering, marine, railways, aerospace and other applications.
ATLANTA, BEIJING, SINGAPORE, AND NETHERLANDS (PRWEB) AUGUST 20, 2018 - FBGs are reliable all-fiber optical components which have been used for making accurate and reliable temperature, strain and other measurements for over two decades. However, due to previous technical limitations, many commercial grade applications could not be properly addressed. A particular challenge existed with high-end packaged FBG acceleration sensors that needed to exhibit both high-end dynamic performance properties and a level of ruggedization that meet or exceed the requirements of marine, railway, aerospace, civil engineering, industrial, and other applications. These new generation ruggedized T310 and T320 acceleration sensors are now available for use in these and other various fields. The sensors can be mounted to monitor one, two, or three axes of acceleration and are immune to lightning and electromagnetic interference. As all other TECHNICA optical sensors, our new family of accelerometers do not require any electrical power. The next T330 High-Sensitivity Accelerometer and T340 Ultra-High Sensitivity (Seismic) Accelerometer models are scheduled for release in 2019.
At their core, the T310 and T320 accelerometers consist of ultra-precision made industrial grade Fiber Bragg Gratings (FBG) manufactured using TECHNICA's state-of-the-art manufacturing processes. Combined with tight dimensional and materials controls and a superior FUGRO patented transducer design that has been licensed to TECHNICA, the result is a new generation of accelerometers featuring excellent wavelength to acceleration calibration. Each unit is tested and calibrated using state-of-the-art manufacturing and test systems that include Bruel & Kjaer (B&K), Agilent, National Instruments, and ultimate precision FAZ Technology FBG sensing equipment. The original design, assembly, and calibration process of these sensors represents a step-function improvement over previous solutions. Featuring an ultra-low noise design, when coupled with FUGRO and TECHNICA recommended matching Optical Sensing Interrogators, this new family of accelerometers provide unparalleled measurement precision and reliability.
Other world-leading FUGRO patented FBG based sensor designs included in the Manufacturing and Sales Agreement between the two companies include Foil Strain Sensors, Industrial and Marine Pressure Sensors, Microphones, Hydrophones and other advanced technology sensors, all of which shall be gradually released by TECHNICA over the coming years as the company absorbs each new corresponding FUGRO licensed technology and ramps-up its manufacturing, test and calibration capabilities for producing these new sensors.
"TECHNICA's strategic alliance with FUGRO focuses on diligently developing and releasing an ever-growing family of commercial grade FBG based sensors. FUGRO's understanding of system level measurement requirements in the real world and proven state-of-the-art sensor designs and TECHNICA's proven state-of-the-art FBG writing technologies and volume manufacturing processes form a strong foundation for a long-term cooperation between our companies that is bound to benefit customers and their applications worldwide" stated Johannes Singer, Chief Science Officer of Fugro.
Andrei Csipkes, Chief Executive Officer of TECHNICA added that "The cooperation between FUGRO and TECHNICA is opening new doors for the deployment of FBG based optical sensors in a growing number of commercial fields. TECHNICA is making efforts to accelerate the rate at which it can absorb the newly licensed technologies from FUGRO and to ramp-up its volume manufacturing in preparation for serving the expanding markets that will be addressed with this new portfolio of premium grade sensors".
Click here for datasheets of these and other premium grade optical sensors.
FUGRO is the world leading provider of geo-intelligence and asset integrity solutions. These are critical to the sustainable development of natural resources and sustainable construction and operation of large facilities and infrastructure. FUGRO is headquartered in The Netherlands and has facilities and operations worldwide (http://www.fugro.com).
TECHNICA is a leading developer, manufacturer, and provider of premium quality Fiber Bragg Gratings, FBG Array and Cable Sensors, and a growing family of FBG Packaged Sensors. TECHNICA is headquartered in Atlanta, USA, with Advanced Technology and Manufacturing Centers in Beijing, China and Singapore (http://www.technicasa.com).
Contact Information
Andrei Csipkes
Technica Optical Components, LLC
http://www.technicasa.com
+1 404-326-3469
More from Architectural & Civil Engineering Products