New Online Thermal Heat Transfer Custom Label Tool for Getting Quotes and Ordering Custom THT Labels
Press Release Summary: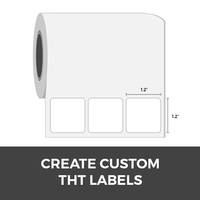 The Thermal Heat Transfer Custom Label Tool is a five-step, online quoting and ordering tool. Users are able to create, preview, review pricing options and order custom labels online. 
---
Original Press Release:
Brady Releases New Thermal Heat Transfer Custom Label Tool
New tool offers custom thermal heat transfer label quotes in as few as five steps
MILWAUKEE, Wis. (September 26, 2018) — Brady (NYSE:BRC), a global leader in industrial and safety printing systems and solutions, announced today the launch of the new Thermal Heat Transfer (THT) Custom Label Tool. This new tool allows users to easily get a quote and order custom THT labels online without making a phone call.
"Brady continues to invest in our digital and operational capabilities to offer our customers the best identification products delivered in the most convenient ways," said Andy Schmitt, regional product manager at Brady.  "This new tool allows end users to get custom THT label quotes immediately on their desktop computer or mobile device by answering five simple questions."
By providing information about the attributes needed for their application, users can create, preview, review pricing and order custom THT labels in less time than it would take to call in and complete the order. 
To learn more about this tool, visit BradyID.com/Customlabels.
For More Information
For the complete product offering from Brady, visit BradyID.com.
About Brady Corporation: 
Brady Corporation is an international manufacturer and marketer of complete solutions that identify and protect people, products and places.  Brady's products help customers increase safety, security, productivity and performance and include high-performance labels, signs, safety devices, printing systems and software. Founded in 1914, the Company has a diverse customer base in electronics, telecommunications, manufacturing, electrical, construction, medical, aerospace and a variety of other industries. Brady is headquartered in Milwaukee, Wisconsin and as of July 31, 2017, employed approximately 6,300 people in its worldwide businesses. Brady's fiscal 2017 sales were approximately $1.11 billion. Brady stock trades on the New York Stock Exchange under the symbol BRC. More information is available on the Internet at http://www.bradyid.com/corporate.
More from Test & Measurement