New Omniball Spring-Loaded Contacts with 6.76 mm of Height
Press Release Summary: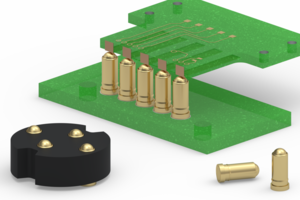 Available as individual pins and in a 4-pin circular connector which is offered in tubes and tape as well as in reel packaging
Features .030" maximum stroke, gold plating on all components and surface mount termination
Suitable for any application that involves sliding or rotating connections
---
Original Press Release:
Mill-Max Rolls Out Omniball® Spring-Loaded Contacts
Spring-loaded pins specifically designed for sliding and rotational connections
Oyster Bay, NY, 12 May 2020 – Mill-Max Manufacturing Corp., Inc. has developed a superior interconnect product to address the challenges of making sliding or rotating connections. The unique Omniball® spring-loaded contact (patent pending) features a rolling ball interface, enabling mating components to engage in lateral, rotational and angular alignments while providing optimal electrical, mechanical, and structural reliability.
The Omniball® contact (P/N: 0945-0-15-20-09-14-11-0) is a spring-loaded pin in which the traditional plunger has been replaced by a gold-plated ball. It is designed to simplify and improve the connections made between components which are mated together in a sliding or rotational motion rather than in an axial or vertical orientation. When engaged, the ball compresses and rolls, allowing the mating surfaces to make contact and then easily slide parallel to each other while spring force acts to ensure consistent electrical contact is maintained. This rolling action alleviates the concerns of connector damage such as binding, premature wearing and structural failure that may occur when using traditional plunger style spring pins in these types of applications.
Features of the Omniball® contact include: .030" (.762 mm) maximum stroke; an overall height of .266" (6.76 mm); gold plating on all components; surface mount termination. These spring-loaded pins are durable, they have been tested to 1,000,000 compression and rolling cycles at half stroke while still meeting specifications for contact resistance of 20 mili-ohms max., current rating of 3.5 amps and spring force of 55 grams at mid stroke (.015", .381 mm).
Omniball® contacts are an excellent choice for any application that involves sliding or rotating connections, such as: "twist & lock" cable connectors; smart lens camera connectors; rugged and IP rated connectors including quarter turn and threaded; as well as docking stations, quick connects and blind mating applications. These unique contacts are available as individual pins and in a 4-pin circular connector which is offered in tubes (P/N: 945-22-204-30-360101) and in tape & reel packaging (P/N: 945-22-204-30-360191). The 4-pin connector is especially well suited for round cable connector applications.
Contact our technical services staff to discuss your application and how we may be able to address your needs.
For more information, please visit http://www.mill-max.com/PR697.
About Mill-Max
Mill-Max is the leading US manufacturer of machined interconnect components with a vertically integrated manufacturing facility headquartered at 190 Pine Hollow Rd., Oyster Bay, NY 11771. Its full product line includes spring-loaded connectors, SIP, DIP, PGA and BGA sockets, board-to-board interconnects and pin headers, surface mount and custom products, PCB pins and receptacles, solder terminals, wrapost receptacles and terminals. The company's complete manufacturing facility includes engineering, tooling, primary and secondary machining, stamping, plating, injection molding, and assembly.
190 Pine Hollow Road
PO Box 300
Oyster Bay, NY 11771-0300
Phone: (516) 922-6000 Fax: (516) 922-9253
www.mill-max.com 
Related