New OMEGA Series AV Collaboration Systems Come with Automatic Display Control
Press Release Summary: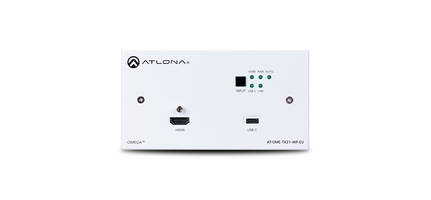 The OMEGA™ Series Switchers include AT-OME-TX21-WP-E, AT-OME-ST31 and AT-OME-SW32 models. The AT-OME-TX21-WP-E unit features a 2x1 HDBaseT™ switcher and a USB-C input and provides control up to 330 ft. The AT-OME-ST31 three input switcher offers selectable 4K to 1080 downscaling and is powered remotely or locally via Power over Ethernet whereas the AT-OME-SW32 3x2 matrix switcher provides selectable AV switching modes.
---
Original Press Release:
The OMEGA Series, Tools for AV Collaboration, Wallplate with USB-C Now Shipping!
The OMEGA™ Series is a new and evolving family of Atlona switching, extension, and video processing solutions for communicating and collaborating around AV content in modern institutions and meeting spaces. They're the result of a refreshed product design initiative at Atlona, reflecting the continually evolving trends of how people gather to share information and facilitate productivity, as well as the ways in which they engage technology for communicating through AV content. 
AT-OME-TX21-WP-E
4K UHD Wallplate Switcher (HDMI and USB-C)
Two-gang enclosure for EU and UK wallplate openings - interchangeable EU and UK trim kits, each in black and white
2x1 HDBaseT™ switcher with HDMI® and USB-C inputs
Ideal for the AT-HDVS-200-RX or AT-HDVS-SC-RX scaling receivers, AT-UHD-EX-100CE-RX-PSE receiver, and Atlona HDBaseT-equipped switchers
HDBaseT transmitter for AV, power, and control up to 330 feet (100 meters)
4K UHD capability @ 60 Hz with 4:2:0 chroma subsampling (with the AT-UHD-EX-100CE-RX-PSE)
Remotely powered PoE (Power over Ethernet) 
Automatic input selection and automatic display control
TCP/IP and RS-232 control
Available now
​AT-OME-ST31
4K UHD Three-Input Switcher for HDMI and USB-C with HDBaseT and HDMI Outputs
3x1 HDBaseT switcher with HDMI and USB-C inputs
Mirrored HDBaseT and HDMI outputs
Selectable 4K to 1080 downscaling 
Remotely or locally powered via PoE (Power over Ethernet) 
Automatic input selection and automatic display control
Audio embedding
Available late October
4K HDR 3x2 Matrix Switcher for HDMI and USB-C with HDMI Outputs
3x2 matrix switcher
Selectable AV switching modes
4K/UHD capability @ 60 Hz with 4:4:4 chroma sampling, plus support for HDR formats
Selectable 4K to 1080 downscaling
Automatic input selection and automatic display control
Audio de-embedding
Available early November​
More from Machinery & Machining Tools