New Office Name Plates, Holders and Door Signs Allows Businesses to Match Branding and Decor
Press Release Summary: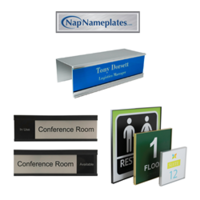 Provides staff and executives sense of pride in their workspaces
Door signs can be customized for special events or varying needs and provides both guests and employees clear information about event locations
Office signs are built with durable metal construction
---
Original Press Release:
Nap Nameplates Debuts A New Line of Custom Office Name Plates, Holders and Unique Signs
Customized Office Name Plates and Signage Improve Branding, Visitor Communication and Deliver Better Versatility
Rockford, Mich. (PRWeb) August 14, 2019 -- Nap Nameplates recently announced new, expanded lines of office name plates and door signs,further refining the unique, custom designs that have established the company's reputation as a leader in the office signage industry.
The American-made office name plates, unique door signs, and nameplate holders are customizable in a variety of ways. This allows businesses to match branding and decor, and give staff and executives a sense of pride in their workspaces.
For conference centers and other public places, easily interchangeable door signs can be customized for special events or varying needs and provide both guests and employees clear information about event locations.
The new office sign product lines cover a wide range of signage uses, from slider signs to ADA-compliant tactile lettering and beyond, all customizable, professional, and built with durable metal construction in the new Nap Nameplates' manufacturing facility in West Michigan.
These 2019 releases are available now and ready for immediate shipment.
Executive Name Plate Holders    
A unique twist on standard holders, executive-style name plate holders feature one thick and one thin border. Use them with either side up or down to create a unique look!
Executive name plate holders can be attached to a door with screws, adhesive or a magnetic backer. Standard 8" x 2" holders fit the custom name plates of your choice and are available in 3 colors. Order in bulk to receive discounted pricing as low as $8.25 each.
Interchangeable Metal Door Signs with Frames
Available in 4 sizes and 3 frame colors, these fully customizable metal door signs come with a perfectly sized, heavy-duty metal frame, and are easily interchangeable thanks to magnetic backing.
All signs are printed in full color, using scratch- and fade-resistant ink to ensure durability and longevity. Order in bulk to receive discounted pricing as low as $12.90 each.
Snap Name Plate Frames
Designed for easy installation on walls, doors or cubicles, the snap-in sign holders are a simple solution for displaying unique signs and name plates.
They allow signs to easily "snap-in" the holders, which can be mounted vertically or horizontally to doors and walls using screws or adhesive strips. A version for cubicles is made to match the exact thickness of your cubicle walls for a perfect fit. Available in 3 sizes, starting at $6.90 each with bulk pricing.
Colored Name Plate Holders
Available in both 8" x 2" and 10" x 2" sizes, these fun and colorful name plate holders for doors and walls come in a variety of vibrant colors - including any custom color of your choice!
Companies of all kinds can use these unique holders to match decor or brand color scheme and add some extra flair to the office. Order colorful name plate holders in bulk for as low as $8.15 each.
Office Slider Signs
Slider signs are a great way to display the availability of conference rooms, shared spaces or individual offices. Available for doors, walls, and cubicles in standard designs for conference rooms, meeting rooms, or general availability, as well as custom text options to easily let people know the status of a room.
All slider signs are constructed of sturdy aluminum, using sublimation printing for crystal-clear text. Basic models start at $16.50 or request a quote for custom designs.
Tactile Name Plates and ADA-Compliant Signs
Colorful, unique tactile name plates make any office look great! These tactile name plates use raised ink, can include company logos and branding, and are available in a wide range of colors.
ADA Compliant Signs used raised, tactile printing for braille, lettering and symbols. The high-contrast style is easy to see and feel! Custom ADA Compliant signs can be designed specific to match the color scheme of your office and unify the space while fully-abiding with ADA regulations.
These name plates work with any of Nap Nameplates' interchangeable holders and can be custom designed with different layout options and colors.
Basic models start at $13.55 each, with a huge range of options!
Explore all of these new name plates and holder on the Nap Nameplates website, and contact the company at any time for quotes on fully-custom projects.
About Nap Nameplates
Founded in 2008 by Robert Napieralski, Nap Nameplates is a sister company of NapTags and Nap's Dealer supplies, based in Rockford, Michigan. Robert saw an opportunity to bring jobs and new business to his community and leads the company with a mission focused on honesty and integrity.
Nap Nameplates strives to always innovate while delivering top quality products, providing excellent service to customers and coworkers, and treating every interaction with kindness and respect. They have recently moved into a brand new, state-of-the-art facility near Rockford, Michigan, just outside Grand Rapids.
Contact Information
Diane Miller
NapNameplates
http://https://www.napnameplates.com
+1 (800) 451-3330