Motion Sensors / Detectors / Transducers
New Non-Contact and Solid-State Sensor is Used for Measuring Riding Speed
Press Release Summary: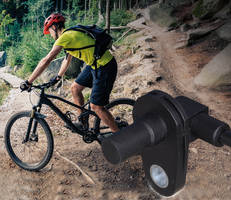 Features 4.5 – 20 VDC supply voltage and -20°C – 100°C operating temperature
Offers 7+1.4/-1.1 mA and 14+2.8/-2.2 mA signal output low and high respectively
Ideal for E-bikes, E-scooters, ABS systems applications
---
Original Press Release:
New Speed Sensor for E-Bike Applications
ZF Electronic Systems has introduced a Hall based non-contact and solid-state sensor for speed detection specifically designed for E-bikes.
E-Bikes are becoming a more commonplace form of transport on the roads. The growing sales figures and increasing market share highlight their importance within the biking industry. E-Bike manufacturers are continually launching new innovations and technical advancements. An important component is the E-Bike sensor from ZF used for the measurement of the current riding speed.
Features
Supply voltage: 4.5 – 20 VDC
Signal Output low: 7+1.4/-1.1 mA
Signal Output high: 14+2.8/-2.2 mA
Operating frequency: 1 – 2.5 kHz
Operating temperature: -20°C – 100°C
Applications
E-Bikes
E-Scooters
ABS Systems
ZF is a global leader in driveline and chassis technology as well as active and passive safety technology. The company has a global workforce of 146,000 with approximately 230 locations in some 40 countries. ZF is one of the largest automotive suppliers worldwide.
ZF enables vehicles to see, think and act. The company invests more than six percent of its sales in research and development annually – in particular for the development of efficient and electric drivelines and also in striving for a world without accidents. With its broad portfolio, ZF is advancing mobility and services for passenger cars, commercial vehicles and industrial technology applications.
Client Contact: Ryan Eder
Phone: 262-942-6582
email: Ryan.Eder@zf.com
ZF Electronic Systems Pleasant Prairie, LLC
8401 W. 102nd Street
Pleasant Prairie, WI 53158
Telephone: 262-942-6500
email: switches-sensors@zf.com
Website: www.switches-sensors.zf.com/us
More from Paints & Coatings