New No-Touch Cleaning System from Kaivac Designed for Small Areas
Press Release Summary: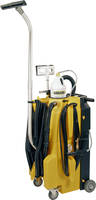 Kaivac has released a new no-touch cleaning system called 1250. The system is designed to clean small areas, featuring a 12-gallon freshwater tank and 12-gallon recovery tank. It also has a 500 PSI pump and a 3-stage, built-in wet/dry vacuum for moisture and soils.
---
Original Press Release:
How No-Touch Cleaning Just Got Better by Getting Smaller
Studies prove No-Touch Cleaning® systems clean 30-60 times better than traditional floor and surface cleaning methods.
Plus, they reduce cleaning time by up to 50 percent.
But they just got better.
Kaivac's new 1250 system does all this, but it's smaller, designed to clean smaller areas. 
With a 12-gallon freshwater tank and 12-gallon recovery tank, the 1250 has a 500 PSI pump to blast-clean fixtures and surfaces.  A 3-stage, built-in wet/dry vacuum vacuums up moisture and soils, so areas are clean and open for use in minutes.
For more information, contact Kaivac Global Head Quarters at www.kaivac.com, emailinfo@kaivac.com, or call 513-887-4600.

For more information in Europe, Middle East and Africa, visit www.kaivac-emea.com, email office@kaivac-emea.com, or call +43 6216 4524 15
About Kaivac, Inc.
Kaivac is the developer of the No-Touch Cleaning® and OmniFlex™ Crossover Cleaning systems. Headquartered in Hamilton, Ohio, Kaivac, Inc. delivers complete science-based cleaning systems designed to produce healthy results and outcomes while raising the value of cleaning operations and the professionalism of the worker. Kaivac offers an integrated portfolio of environmentally friendly cleaning products designed to remove the maximum amount of soil and potentially harmful biopollutants in the most cost-effective manner possible.
More from Agricultural & Farming Products