New NileCAM GMSL Cameras Feature On-Board High-Performance Image Signal Processor Chip
Press Release Summary: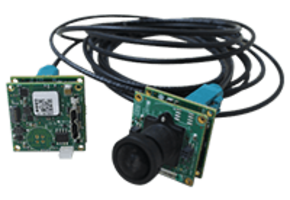 NileCAM GMSL Cameras are available in NileCAM30_USB and NileCAM30_TX2 models. The units support streaming of uncompressed 1080p video at 45fps. NileCAM cameras feature 1/3 in. AR0330, 3.4 MP CMOS image sensor. The unit's processor chip helps in performing auto functions and image processing functions. NileCAM GMSL cameras are offered with S-mount lens and can be connected with coaxial cable interface of up to 15 m length.
---
Original Press Release:
e-con Systems Launches the World's Fastest GMSL Camera upto 15 Meters Support with Low Latency
e-con Systems is a leading tech company providing solutions for the complex imaging problems. After the successful launches of See3CAM and e-CAM series cameras, this time e-con Systems comes up with a new Series called NileCAM Cameras. The NileCAM series cameras are cameras which can be used for longer distance. These cameras can be placed 15 meters away from host processor and still to support less latency and high frame rate. It uses GMSL technology for supporting the data, power and control through a single cable. GMSL is one of the popular SERDES techniques to support long distance cameras.
ST. LOUIS and CHENNAI, India – July 25, 2018 - e-con Systems Inc., a leading embedded camera solution company, today announced the launch of NileCAM30 - Full HD GMSL camera. It is a based on 1/3-inch AR0330, a 3.4 MP CMOS image sensor from ON Semiconductor®. The initial launch is going to be with both USB interface and MIPI interface (NVIDIA Jetson TX1/TX2). NileCAM30 can stream uncompressed Full HD(1080p) @ 45fps, which is considered as the world's fastest GMSL Camera as of now. Customer looking to evaluate using USB can purchase NileCAM30_USB. For NVIDIA Jetson TX1/TX2 customer can purchase NileCAM30_TX2.
NileCAM30 is ideal camera for customer applications where extremely long distance cables are required to connect with the host processor. Such as Autonomous Vehicles, Inspection cameras, Street lighting cameras, Robotics, etc,.
 "With NileCAM, e-con is launching a new family of cameras with a state-of-the-art GMSL serial interface technology that carries high-speed video, bidirectional control data and power all over a single coaxial cable. The NileCAM30 camera module based on e-con's hugely popular AR0330 based camera module e-CAM30_CUMI0330_MOD is the world's fastest GMSL camera and it supports streaming of uncompressed 1080p video at 45fps with very low latency for real time video processing applications." said Ashok Babu, President of e-con Systems Inc. "With single coaxial cable interface of up to 15m length, NileCAM offers greater flexibility for the customers to use the cameras in mechanically challenging embedded applications and the new generation of automotive and autonomous driving applications" he added
NileCAM30 is based on 1/3' AR0330 image sensor with an on-board high-performance Image Signal Processor chip (ISP) that performs all the Auto Functions (Auto White Balance. Auto Exposure control) in addition to complete Image Signal Processing functions. It comes with S-Mount lens holder to support wide range of Lenses.
Availability
The NileCAM30_USB and NileCAM30_TX2 is currently available for evaluation. Customers interested in evaluating the NileCAM30_USB and NileCAM30_TX2 can order samples from e-con Systems' online store. 
For more information, please visit . Also, watch the demo video at https://www.youtube.com/watch?v=rA0UEe4y55U
Customization
Customers interested in customizing can contact sales@e-consystems.com for any customization and additional features.
About e-con Systems
e-con Systems specializes in camera solutions with offerings like camera modules, USB camera modules, camera boards for various microprocessors, camera Device driver development services on Windows/Linux/Android Operating systems, Camera reference design, software ISP, camera customization and camera tuning.
For more information please contact:
e-con systems
Harishankkar
e-con Systems Inc., +1 314 732 1152
e-con Systems India Pvt. Ltd., +91 44 40105522
Website: www.e-consystems.com
Related