New Network Synchronization ICs Come with IEEE 1588 Support
Press Release Summary: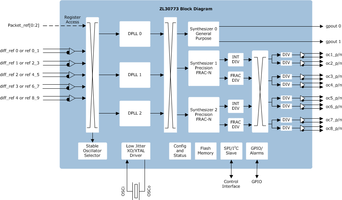 Microsemi's Network Synchronization IC family consists of ZL30671, ZL30672, ZL30673, ZL30681, ZL30682, ZL30683, ZL30256, L30771, ZL30772 and ZL30773 SyncE packet clock network synchronizers. The units simplify the designing of next-generation transport and wireless equipment. The ICs deliver 1 picosecond (ps) resolution for input vs. input phase measurement. The units come with 10 input references, 16 programmable outputs, three independent DPLL channels and two precision synthesizers.
---
Original Press Release:
Microsemi Announces Newest Network Synchronization IC Product Family Designed Specifically for New 5G Wireless Infrastructure Equipment
Advanced Phase Measurement and Adjustment Capabilities Enable Equipment Designs to Achieve the Stringent Phase Alignment Performance Needed for 5G Networks
ALISO VIEJO, Calif., July 19, 2018 /PRNewswire/ -- Microsemi Corporation, a wholly owned subsidiary of Microchip Technology Inc. (Nasdaq: MCHP), today announced its newest network synchronization integrated circuit (IC) product family for Synchronous Ethernet (SyncE) and IEEE™ 1588 timing and line card applications. Targeted for upcoming 5G wireless equipment and network infrastructure, the new product family provides advanced phase measurement and adjustment capabilities which simplify next-generation transport and wireless equipment design. These capabilities also enable equipment to achieve the stringent phase alignment requirements which are down to 130 nanoseconds (ns) across the entire network.
As next-generation networks will move greater amounts of data providing increased connectivity and must do so with lower latency and at a lower cost, Microsemi's new network synchronization IC product family provides the feature set necessary to address these challenges. The devices' precise timing capabilities to monitor, measure, tune and calibrate to the picosecond enable equipment manufacturers to address the tenfold increase in phase alignment accuracy required by 5G networks.
"The precise time capabilities of these new devices directly address the growing constraints put on our customers by next-generation networks," said Maamoun Seido, vice president and business unit manager for Microsemi's timing products. "Our new network synchronization IC product family strengthens our leadership position in the market by leveraging our deep expertise to solve these difficult 5G requirements with advanced features and technologies." 
According to market research firm IHS Markit, worldwide acceleration in 5G developments has pushed the 5G forecast substantially from $59 million in 2018 to $11.3 billion in 2022. Microsemi's new product family is ideal for a variety of 5G applications, including 5G baseband, radio units, distributed units and centralized units. These new devices can also address the demands of mobile fronthaul/midhaul/backhaul, including microwave/millimeter wave and service provider switches and routers.
Product Family Devices
Microsemi's new product family includes SyncE packet clock network synchronizers—ZL30671, ZL30672 and ZL30673—which offer one to three channels of SyncE packet clock synchronization, and the family's ZL30681, ZL30682 and ZL30683 offer one, two or three independent channels of SyncE clock translation while the ZL30256is able to attenuate and translate frequencies up to three channels. Its IEEE 1588 and SyncE packet clock network synchronizers—ZL30771, ZL30772 and ZL30773—offer one to three independent timing channels of a combined hardware and software platform including IEEE 1588-2008 Precision Time Protocol (PTP) stack and synchronization algorithms. 
Key features of the overall product family include:
Precise time performance

Input vs. input phase measurement with 1 picosecond (ps) resolution
Input vs. digital phase locked loop (DPLL) phase measurement with 1 ps resolution
Input and DPLL phase adjustment with 1 ps resolution
Output synthesizer has 1 ps phase-adjustment resolution

Versatile feature set

10 input references
16 programmable outputs
three independent DPLL channels
two precision synthesizers
one general purpose synthesizer
redundant oscillator support

Full IEEE 1588 support
Product Availability
Microsemi's new network synchronization IC product family is available now. For more information, visit https://www.microsemi.com/product-directory/timing-synchronization/3432-network-synchronization or email sales.support@microsemi.com.
About Microsemi's Product Portfolio for Communications
Microsemi is a premier supplier of high value-add semiconductor, system and services for the enterprise, data center and telecom markets. Microsemi products enable customers to build secure, reliable and low power systems that can meet stringent requirements of next generation communication networks. Customers leverage Microsemi technologies to drive innovation in a range of applications including edge and core routers, Ethernet switches, optical transport network (OTN), wireless infrastructure including LTE-Advanced, small cells and Wi-Fi access points; access aggregation and broadband gateways including fiber/PON, G.fast and DOCSIS3.1.
Microsemi's comprehensive communications portfolio offers market-leading advancements in multiple product categories including high accuracy timing and synchronization systems, software, components and services; feature-rich Carrier Ethernet switches and PHY, power-efficient and multi-standard compliant Power-over-Ethernet (PoE) systems and components, G.hn, G.fast and xDSL line drivers; innovative voice and audio intelligence, lowest power FPGAs with highest security and single event upset (SEU) immune fabric, security portfolio of hardware and software products including state-of–the-art multi-layer encryption, sophisticated key management, secure authentication with anti-tamper and anti-cloning capabilities; 100 Gigabits optical drivers and the most integrated Wi-Fi front-end modules (FEM). For more information, visit http://www.microsemi.com/applications/communications.
About Microsemi
Microsemi Corporation, a wholly owned subsidiary of Microchip Technology Inc. (Nasdaq: MCHP), offers a comprehensive portfolio of semiconductor and system solutions for aerospace & defense, communications, data center and industrial markets. Products include high-performance and radiation-hardened analog mixed-signal integrated circuits, FPGAs, SoCs and ASICs; power management products; timing and synchronization devices and precise time solutions, setting the world's standard for time; voice processing devices; RF solutions; discrete components; enterprise storage and communication solutions, security technologies and scalable anti-tamper products; Ethernet solutions; Power-over-Ethernet ICs and midspans; as well as custom design capabilities and services. Microsemi is headquartered in Aliso Viejo, California. Learn more at www.microsemi.com. 
CONTACT: Beth P. Quezada, Director, Corporate Communications, 949-380-6102, press@microsemi.com
More from Mechanical Components and Assemblies