New MW3550 Laser Stripping Machine for 35-50 Gauge Wire
Press Release Summary: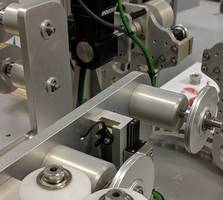 The MW3550 Laser Stripping Machine is suitable for processing ultrafine wires used in medical device, automotive and microelectronic products. The machine is designed for wire sizes ranging from 35 to 50 gauge and offers precision indexing with tolerances up to 12.5 µm. It is offered with process design that allows for 360° of wire stripping via indexing. The unit handles wires without elongation or distortion using the various tensioning options.
---
Original Press Release:
Laser Stripping Microwire Automation for Next Generation Products
January 4, 2019 - BOLD Laser Automation, Inc. of Bedford, NH USA, announces their new MW3550, Microwire Handling Platform, for wire sizes from 35 (0.0056" Dia.) to 50 (0.001" Dia.) gauge. MW3550 is the latest in automated platforms for processing ultrafine wire used in Medical Device, Automotive and Microelectronics products. Coupled with process specific laser technology the MW3550 allows these microwires to be selectively stripped, step processed and additive welding of sensor/electrode components. The MW3550 can be configured with other processes, such coating, crimping and singulation.
The MW3550 provides options for precision indexing to tolerances of ±0.0005" (12.5 µm). With various tensioning options, the wire is handled without elongation or distortion. The MW3550 has a process zone design that allows for 360° of wire stripping via indexing or on the fly in a continuous process.
The MW3550 provides opportunities for processing insulated wires used in catheter designs that create conductive pathways that carry energy the length of the catheter device. The MW3550 has process options for magnetic wire as well used in current and next generation electric vehicles.
For more information and product literature, call 1-855-295-6037 / 1-603-493-2579 or go to www.boldlaserautomation.com.
Company Name: BOLD Laser Automation, Inc.
Address 1: 27 Harvey Road, Unit 4
City: Bedford
State: NH
Zip: 03106
Country: USA
Phone: 603.493.2579
URL: www.boldlaserautomation.com
Contact Name: Todd Lizotte
E-mail: todd.lizotte@boldlaserautomation.com
More from Architectural & Civil Engineering Products