New Multilayer Varistors Features High Operating Temperature of up to 150 degree C
Press Release Summary: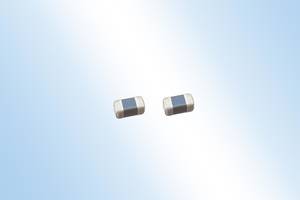 Available in compact dimensions of 1.0 x 0.5 x 0.5 mm
Features low capacitance through precise multilayer technology
Maximum operating voltage ranges up to 70 V
---
Original Press Release:
Voltage Protection Devices: Miniaturized Multilayer Varistors for Automotive Ethernet
Low capacitance and narrow tolerance for signal integrity at high data rates
Miniature dimensions of 1.0 x 0.5 x 0.5 mm
High operating temperatures up to 150 °C
Qualified to AEC-Q200
August 20, 2019 -- TDK Corporation (TSE:6762) has expanded its lineup of multilayer varistors with the new AVRH10C101KT1R1NE8 for automotive Ethernet. Thanks to the extremely precise multilayer technology, the product features a low capacitance of just 1.1 ± 0.3 pF, ensuring signal integrity even at the high data rates of automotive Ethernet. With its IEC 1005 package (1.0 x 0.5 x 0.5 mm) the varistor boasts a volume that is 75 percent smaller than existing components. The component, which is qualified to AEC-Q200, features a maximum operating voltage of 70 V and an operating temperature range of -55 to +150 °C, thus expanding the range of possible applications.
Automotive Ethernet is the communication infrastructure of choice for today's vehicles since ECUs require a high speed, low latency communication in advanced driver assistance systems (ADAS) and autonomous driving. TDK's newest varistor protects automotive ECUs and components from ESD without impeding high speed communication between ECUs.
Moving forward, TDK will continue to expand the product lineup in terms of compactness, operating voltage, and capacitance to support a wide range of automotive device designs.
Main applications
ESD protection of ECUs networked with automotive Ethernet
Main features and benefits
Low capacitance through extremely precise multilayer technology
Compact dimensions of just 1.0 x 0.5 x 0.5 mm
High reliability; qualified to AEC-Q200
High operating temperature of up to 150℃
About TDK Corporation
TDK Corporation is a leading electronics company based in Tokyo, Japan. It was established in 1935 to commercialize ferrite, a key material in electronic and magnetic products. TDK's comprehensive portfolio features passive components such as ceramic, aluminum electrolytic and film capacitors, as well as magnetics, high-frequency, and piezo and protection devices. The product spectrum also includes sensors and sensor systems such as temperature and pressure, magnetic, and MEMS sensors. In addition, TDK provides power supplies and energy devices, magnetic heads and more. These products are marketed under the product brands TDK, Chirp, EPCOS, InvenSense, Micronas, Tronics and TDK-Lambda. TDK focuses on demanding markets in the areas of information and communication technology and automotive, industrial and consumer electronics. The company has a network of design and manufacturing locations and sales offices in Asia, Europe, and in North and South America. In fiscal 2019, TDK posted total sales of USD 12.5 billion and employed about 105,000 people worldwide.
Contacts for regional media:
Japan
Mr. Yoichi OSUGA
TDK Corporation Tokyo, Japan
+813 6778-1055
ASEAN
Ms. Jiang MAN
Ms. Pei Lu LEE
TDK Singapore (Pte) Ltd. Singapore
+65 6273 5022
Greater China
Ms. Clover XU
TDK China Co., Ltd. Shanghai, China
+86 21 61962319
Europe
Mr. Frank TRAMPNAU
TDK Europe GmbH Duesseldorf, Germany
+49 211 9077 127
America
Ms. Sara M. LAMBETH
TDK Corporation of America Irving, TX, USA
+1 972-409-4519