New Multilayer Material Innovates Formula Dispensing for Jarred Cosmetics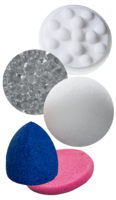 Fairburn, GA (January 18, 2018) – A new patent-pending composite material combines the reservoir and applicator in a single product to provide consistent dosage for cosmetics formulas packaged in jars. By combining layers of fiber and/or foam with layers of Nubiform®, a porous elastomer from Porex Corporation ("POREX®"), the material performs as both a gateway and selective barrier to liquid- or cream-based beauty products like foundations, moisturizers or serums. This multilayer structure can help address common problems associated with jarred products, including uneven formula distribution, product leakage or spillage and messy application.
Through carefully chosen combinations of porous plastic, fiber and/or foam, the new material can be specifically tailored to formulations of various viscosities, setting it apart from the standard single layer of foam typically found in jarred products. The open-cell, flexible pore size of Nubiform® aids in optimizing flow-through for formulas, while the fibrous layer both allows a container to be filled with more product than traditional packaging and provides anti-leak protection. This unique combination of media means consumers can expect a precise dose upon every use while also feeling confident that a shaken or overturned container won't result in a mess or product waste.
Customization of the multilayer composite extends beyond pore size, material selection and layering order—cosmetics designers are also able to choose appearance and texture, ensuring the material's look and feel best suits the formula it is enabling. The multilayer material can be designed to be soft and smooth to the customer's touch, hard and coarse, or any other consistency that matches product intentions.
"Combining the applicator and reservoir in one customizable multilayer material revolutionizes the way customers use and view their jarred cosmetic products," says Rusty Martin, Global Strategic Marketing Director Consumer and Industrial Segments at POREX®. "To achieve both optimal liquid retention and liquid release in one dynamic composite means they can depend on consistent product performance and longevity."
To learn more about Nubiform®, visit nubiform.porex.com.
About Porex Corporation
At POREX®, we go to great lengths to provide a comprehensive, collaborative engineering partnership with our customers. We offer high-value porous solutions across functions such as absorbing, applying, diffusing, filtering, venting and wicking that enable our customers to bring new ideas to life. With our unmatched experience, stringent regulatory and quality standards, extensive global footprint, and clean manufacturing practices. We take pride in our 50 years of history and in the innovations developed by partnering with leading companies to create a safer, healthier, and more productive world.
Let our experience, quality, and innovation support your continued success. For more information about Porex Corporation, visit porex.com.
More from Materials