New Multi-Axis SiP Alignment Systems for Test & Production; From PI's Award-Winning Technology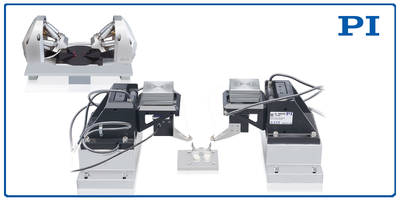 New complete systems for ultrafast alignment tasks are available in single or double-sided arrays.
January 2017, Auburn, MA - Nanopositioning equipment manufacturer PI now offers a new family of automated alignment engines for silicon photonics applications including 3 to 6 axis mechanisms, controllers with firmware based alignment algorithms, and the software tools to meet the high accuracy demands of different markets, such as packing, planar testing, or inspection.
Nanoscale Accuracy, Multi Degrees-of-freedom
Very stiff stacked multi-axis systems and parallel-kinematics 6 DoF systems with high speed and high throughput achieve alignment times of less than 1 second for single and double-sided alignment tasks, with all axes driven by one controller or one software interface using one global coordinate system. Interdependencies of axes are automatically compensated for and integrated coarse-fine solutions deliver 25mm closed-loop motion for first light and 100μm high-speed, piezo-flexure based nano-align motion in X, Y, Z. Longer linear travel ranges are possible.
One of 2016 Most Technologically Significant Products
An R&D 100 winner in the Analytical/Test category, PI's one-step global optimization product line addresses the requirement of incorporating multiple parallel optical paths with multiple, interacting inputs and outputs, all requiring optimization. The advanced alignment systems of the F-712.HA2 and F-712.MA2 are based on a highly specialized digital motion controller with embedded advanced alignment and tracking functionality and a hybrid precision scanning and tracking mechanism combining the advantages of piezoelectric on servo-motorized drives. Led by Head of Photonics Market Segment Scott Jordan, PI's development team comprises more than a century of photonics alignment automation experience and includes foundational participants in the field.
Specifications, Datasheet, More Information http://www.pi-usa.us/products/Photonics_Alignment_Solutions/index.php#FMPA
Standard and Custom
PI has over 4 decades of experience providing in-house engineered precision motion control solutions, and can quickly modify existing product designs or provide a fully customized OEM part to fit the exact requirements of the customer's application.
About PI
PI is a leading manufacturer of precision motion control equipment, piezo motors, air bearing stages and hexapod parallel-kinematics for semiconductor applications, photonics, bio-nano-technology and medical engineering. PI has been developing and manufacturing standard & custom precision products with piezoceramic and electromagnetic drives for 4 decades. The company has been ISO 9001 certified since 1994 and provides innovative, high-quality solutions for OEM and research. PI is present worldwide with twelve subsidiaries, R&D / engineering on 3 continents and total staff of 950+.
PI (Physik Instrumente) L.P.
16 Albert Street, Auburn, MA 01501
USA / Canada
East
(508) 832-3456
Midwest
(508) 832-3456
West
(949) 679-9191 (LA Area & Mexico)
(408) 533-0973 (Silicon Valley/Bay Area)
Contact This Company Download Spec Sheet
More from Communication Systems & Equipment