New MT2168 Pick-and-Place Handler Comes with Ground Fault Monitoring Option
Press Release Summary: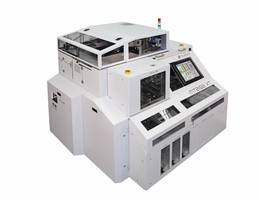 MT2168 Pick-and-Place Handler with ground fault monitoring increases production output and avoids ESD pre-damages. The new option is used for detecting grounding issues that leads to pre-damaged devices.
---
Original Press Release:
Enhancing IC Production Quality: Multitest MT2168 Pick-and-Place Handler Option for Avoiding ESD Pre-Damages
Rosenheim (Germany), May 2018: The Multitest MT2168 pick-and-place handler now offers a ground fault monitoring option. The ground fault monitoring option is part of a feature set that will enhance the value of the production output at the customer site. Ground fault monitoring is an important feature for meeting advanced quality standards.
The ground fault monitoring option is a continuous self-check of the MT2168 to detect grounding issues which may result in pre-damaged devices. Without this option grounding issues may only be detected during regular preventive maintenance, but no information can be obtained such as when the issue actually started and which test lots may be affected. With increasing quality standards ground fault monitoring is considered a mandatory at many production floors.
The ground fault monitoring option can be retrofitted in the field.
To learn more about the Multitest MT2168, please visit www.multitest.com/MT2168 .
About Multitest:
Multitest (headquartered in Rosenheim, Germany) is one of the world's leading manufacturers of semiconductor material handling equipment and interfaces for the testing and calibration of semiconductors and sensors. Multitest markets a broad portfolio of innovative and performance driven test handlers, contactors and ATE printed circuit boards. Multitest has more than 30 years of experience in the semiconductor industry, providing solutions to the automotive, consumer, communication, and sensor markets. Multitest is a company of Xcerra™ Corporation, which provides capital equipment, interface products, and services to the semiconductor, industrial, and electronics manufacturing industries. Xcerra Corporation offers a comprehensive portfolio of solutions and technologies, and a global network of strategically deployed applications and support resources. Additional information can be found at www.multitest.com and www.Xcerra.com
Trade press interested in technology, products
please contact
Barbara Loferer
Xcerra Corporation
825 University Avenue
Norwood, MA 02062-2643
Phone : +49 8031 406 216
E-mail: barbara.loferer@Xcerra.com
Financial media interested in corporate news 
please contact
Rich Yerganian
Xcerra Corporation
825 University Avenue
Norwood, MA 02062-2643 
Phone : +1.781-467.5063
E-mail: rich.yerganian@Xcerra.com
More from Machinery & Machining Tools