New MSM Ring with High-Quality Black Anodized Aluminum Housing
Press Release Summary: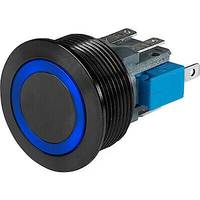 Rated current of 100mA to 10A and rated voltage 30 VDC to 250 VAC
Available in four different diameters 16, 19, 22 and 30
Applications include medical equipment, automotive and architectural design
---
Original Press Release:
MSM Ring Illuminated Switch with Modern Dead-Front
Santa Rosa, California, July 15th, 2022 – SCHURTER extends its Metal Line switch series MSM to include a modern ring illuminated dead-front display. With its fresh look, the new MSM combines the familiar and intuitive features of tactile and optical feedback.
The new MSM ring illuminated dead-front series uses a housing of high-quality black anodized aluminum and a unique black translucent plastic ring for illumination, which gives the switch an elegant and contemporary appearance. Available in single color and RGB variations, the illumination of this MSM discreetly blends into the surface of a dark display. The switch appears inconspicuously black when the lighting is inactive. If the illumination is active, the ring shines in the set color. The color and light intensity are not compromised, despite the black translucent plastic material used for the ring through which the light is cast.
Applications for the MSM RD include human-centered interface designs, where aesthetics and safety are of the utmost importance. Such applications include medical equipment, automotive and architectural design. The switch is also ideal for meeting robust requirements of outdoor applications, considering its front panel seal protection rating of IP67, impact resistance rating of IK07,and UV resistant black light guide.
The MSM ring illuminated dead-front series is available in four different diameters, 16, 19, 22 or 30 with a rated current of 100mA to 10A and rated voltage 30 VDC to 250 VAC. The standard LED supply voltage is 24V. Pricing for the MSM ring illuminated dead-front starts at about $30.00 each in 100-piece quantities. Link to MSM Data Sheet. For sales and product information, contact Savannah Lee at (800) 848-2600 or by email at info.sinc@schurter.com.
About SCHURTER Inc.
The SCHURTER Group is the world's leading Swiss technology company providing components and complex solutions that ensure safe power supply and simplified equipment operation. The company's professional competence, financial independence, innovative strength and distinctive corporate culture, propel the SCHURTER Group, together with its customers and partners, into the digital future. The safe&easy brand claim not only refers to the products, but also the company's business philosophy, which strives for sustainable success through innovation, high-quality products and service, flexibility and proximity to customers.
SCHURTER is known globally as an innovator, manufacturer and distributor of fuses, connectors, circuit breakers, switches, EMC products,and input systems. Touch screens and touch panels, capacitive sensor keypads, membrane keypads and housing systems are developed in close cooperation with its customers. Within its business unit Solutions, SCHURTER combines all competencies and puts them at the customer's disposal. SCHURTER products and solutions are developed especially for specific industry segments – medical, data and communication, automotive, avionics & space, energy and the broader industrial market. SCHURTER considers the quality of its products and services as the key factor to the company's lasting success. Its management and improvement processes are designed and certified according to ISO 9001, ISO 13485, ISO 14001, ISO 45001 and IATF 16949, using the EFQM and Baldrige Excellence Models, as well as the application of Lean Management principles such as Value Stream Planning, Power Innovation, SSO,and Six Sigma.
SCHURTER Inc., Santa Rosa, California is the exclusive North America sales and distribution office for the SCHURTER Group
For Immediate Release Editorial Contact:
Myra Hallman
Myra.hallman@schurter.com
SCHURTER Inc
447 Aviation Boulevard
Santa Rosa, CA 95403
Tel: +1-707-636-3000
Fax: +1-707-636-3033
www.schurter.com