New Mouth-Nose Mask Offers High Oxygen Permeability
Press Release Summary: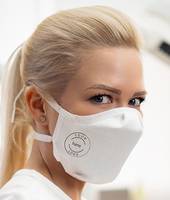 Kills bacteria and viruses including coronaviruses
Features multi-layer structure that includes layer of Intercept Technology™ copper polymers
Ideal for the workplace and areas where masks must be worn continually
---
Original Press Release:
INTERCEPT CU22 Masks and Filters Protect the Wearer and Those Around Them
Liberty Intercept is pleased to add INTERCEPT CU22™ face masks and filters to its arsenal of versatile and safe products. In these times, it is more important than ever to protect yourself from infection and stay healthy. The mouth and nose mask with INTERCEPT CU22 replaceable filter is our active barrier for you. INTERCEPT CU22 mouth-nose mask protects not only those around you, but also you as the wearer.
Testing confirms that this product actively protects the wearer and others. INTERCEPT CU22 has been tested to highest international standards:
ISO 18184 (killing of viruses including coronaviruses)
JIS Z 2801 (killing bacteria)
DIN 14683 (efficacy filtration, oxygen permeation)
The multi-layer structure includes a layer of Intercept Technology™ copper polymers, offering the wearer an active barrier against viruses and bacteria, even coronavirus and MRSA. Adjustable fit of the mask and active copper polymer filter have a high oxygen permeability, a high level of comfort, even with long periods of wear, making it ideal for the workplace and areas where masks must be worn continually.
INTERCEPT CU22 wearers have experienced:
a return to freedom knowing the copper barrier is between them and others
eliminating a fear of infecting others in their normal routines and at work
less fatigue and headaches from oxygen deprivation with other masks
less itching, scratching, reaching under mask
less invasion of outside chemical or other smells
less feeling of "dead air" circulating inside the mask; cleaner, fresher.
Masks are available in white and black, adult and children sizes. Replaceable filters available in children's and adult sizes. Sets include mask with filter sleeve, a filter and 2 cord-stoppers, all inside an Intercept protection storage bag with retail header and hanger hole punch.  Replacement INTERCEPT CU22 filters packed five per box or 25 per case.
Legal Disclaimer
INTERCEPT C22™ products have been carefully designed and tested beyond normal standards and are manufactured under the highest possible quality controls. We will however have to conform to legal requirements and state that our products are not considered Personal Protection Equipment (PPE) or medical devices. This technical description does not represent a warranty of any type given or implied. Our conditions of manufacturing, sale and delivery apply. www.shopintercept.com
CONTACT: info@libertyintercept.com PHONE 1-781-849-3355
More from Electronic Components & Devices