New Monoclonal Antibodies to Powassan Virus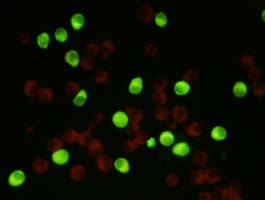 Many Flaviviruses are mosquito-transmitted. In North America the Powassan virus is transmitted by ticks. This Flavivirus, named for a town in Canada where it was identified, usually causes a mild infection. However, occasionally severe disease resulting in encephalitis can occur.
ViroStat has developed several new Monoclonal Antibodies specific to the Powassan virus. These antibodies do not cross react with other related Flaviviruses and as such are excellent reagent tools for research with potential for diagnostics.
Download data sheets for these antibodies at www.virostat-inc.com.
ViroStat is a primary manufacturer, supplying infectious disease reagents to researchers and rapid test manufacturers since 1985.
Contact ViroStat for your FREE copy of the NEW Catalogue at 207-856-6620 or view and download it online at www.virostat-inc.com.
ViroStat, Inc.
PO Box 8522
Portland, ME 04104 USA
Phone: 207-856-6620
Fax: 207-856-6864
E-mail: info@virostat-inc.com
Website: www.virostat-inc.com
More from Software